Stoke manager Mark Hughes accused Jose Mourinho of sour grapes for refusing his post-match handshake after Manchester United's winning run ended.
United dropped Premier League points for the first time this season as Maxim Choupo-Moting capitalised on errors from Eric Bailly and Phil Jones to net a brace either side of efforts from Marcus Rashford and Romelu Lukaku.
Mourinho was dismissive of what he perceived to be defensive tactics from the Potters in the 2-2 draw - a claim Hughes refuted - and at one point during the game the Portuguese was pushed by his counterpart when he entered his technical area.
There was then no handshake after the final whistle, a custom Hughes has previously been snubbed for by the likes of Tony Pulis and Arsene Wenger, and the Potters boss accused Mourinho of taking the result poorly.
"Sometimes managers of top-six clubs don't take negative results too kindly."
"I pushed him because he was in my technical area," Hughes explained.
"Maybe that's why he didn't want to shake my hand. Maybe it's because it has to be viewed as a negative result for him, coming to Stoke when everybody expected them to beat us.
"It's a negative. Sometimes managers of top-six clubs don't take negative results too kindly. Sometimes, because they're not used to having to take negative results, sometimes they react in the wrong way. Maybe he reacted in the wrong way.
"In fairness, I've got history with non-handshakes so maybe it's me! Who knows?"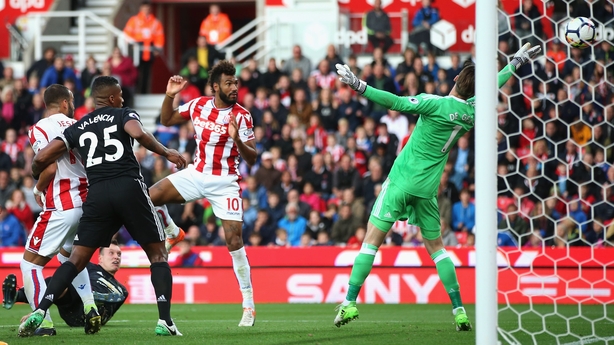 Mourinho brushed aside the issue in his post-match press conference, though he was keen to stress he was not in the wrong when asked by BBC Sport.
"I prefer not to answer (the) question about handshakes - it's a bad question," he said. "It makes it look like it's my fault but that's not right."
United enjoyed the bulk of possession and had more opportunities yet it was far from one-way traffic and this was certainly not another example of Mourinho's side failing to kill off a team they dominated.
Nevertheless, he was adamant Stoke got exactly what they wanted in just taking a share of the spoils.
"I think it probably is a fair result," he said.
"One team wanted to win, another team wanted to draw. They defended a lot and it is becoming quite trendy in the Premier League, this way of defending now, but they did well and physically they were very strong and they probably deserved the point."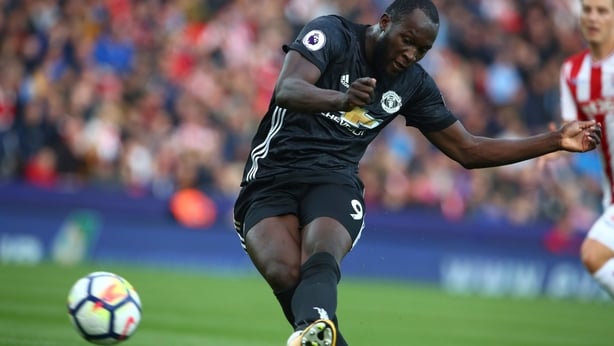 Unsurprisingly, Hughes, who has secured home wins over Manchester City, Liverpool, United and Arsenal in his time here, saw it differently.
"I thought we went toe-to-toe with them," he said.
"You can mention the amount of finance they can throw at their team but it is what it is, we know that. Some teams have more resources than others and it's how you use them.
"We will always try and go up against teams; we'll never just sit back and wait for the inevitable. I thought we asked questions from the beginning to the end and not many have done that this year.
"For the most part United have had the ability and capacity to sweep everybody else before them very comfortably. We were never in any danger of being overrun or overcome by them and that's great credit to us."