The Republic of Ireland head into their crucial Group D clash against Serbia needing more than just a quick fix. They need points.
They currently sit in second position on the table, two points behind Serbia with Wales breathing down their necks in third spot on 11 points.
On Saturday, Martin O'Neill's side had to settle for a draw against Georgia in Tbilisi. Yet despite a desperately poor display, former Republic of Ireland International Richie Sadlier believes they are capable of a good performance at the Aviva on Tuesday night.
"I think they absolutely can bring a performance and they need a big one. The obvious example is Germany at home in the last campaign," Sadlier told RTÉ Sport.
"Maybe with things being as bad as they were on Saturday and the stick the players are going to get there will be a siege mentality in that dressing room.
"And they will say okay, we have been criticised heavily by people. The supporters are giving us a bit of stick, the media are writing us off, the pundits are hammering the manager, now is the time to go out and do things.
"All those things do matter. The technical ability of the group isn't going to be transformed one bit from the Georgia game, the fitness levels won't change.
"But the performance of the players can change because they can do much better without asking them or expecting them to play at a level they haven't done before."
"I don't think there is a quick fix" - Martin O'Neill tells @CorkTOD how Ireland will focus on Serbia #RTEsoccer #GEOIRL pic.twitter.com/utsNa5LQ9D

— RTÉ Soccer (@RTEsoccer) September 2, 2017
Wes Hoolahan sat on the bench for the entire game against Georgia, leading to speculation that he might start against Serbia. Sadlier feels that the Norwich player could make a big difference.
"I don't think one player can transform a team's fortunes over the course of the group. But Wes Hoolahan in this Irish squad can offer far more options to people when they have the ball, like being a team-mate who is willing to receive it.
"He keeps the ball better that any other player on the team; he creates opportunities for team-mates better than any other player on the squad. 
"He asks questions that present difficulty to an opposition's defence, that no one other Irish player does.
"Now if he is one of five or six players that does that then do you know what, he's Wes Hoolahan he's just one of a number of players who can do that kind of thing but he's not.
"There is no one like him in the squad. Nobody else is even remotely similar to him, it doesn't matter what the structure is, if it's three in the middle of the park, one behind the front man.
"It doesn't matter what formation we play if Wes is one of the players in that formation, the possibilities dramatically increase in terms of what we can create going forward and what can kind of problems we can pose to the defence because he does things so differently."
Ireland escaped from Tbilisi with one point but their performance was widely criticised. They went ahead after four minutes through a Shane Duffy goal but allowed Georgia back into the game.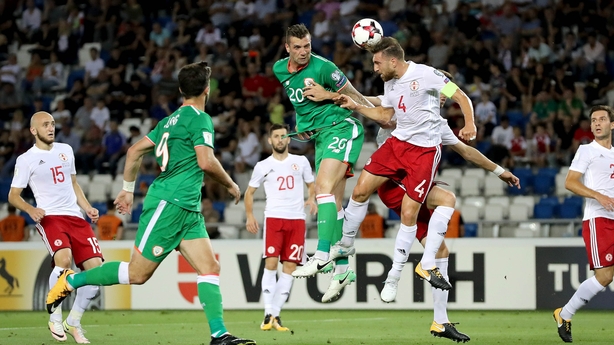 The home-side equalised a half hour later and it was a deserved goal as they dominated proceedings throughout.
"What's alarming for me is that a group of players who play at the level they do, seem completely incapable of keeping possession of the football when they get together and I can't understand why that is.
"I can't imagine it is a directive from the management to be so careless on the ball, I can't imagine that it is a thing that is not mentioned in the dressing room as an area they should improve.
"I would assume they work on it in training, key ball sessions because it is such a glaring fault in the Irish game.
"They put themselves under so much pressure losing the ball so often and so cheaply that you would have to assume that is being worked on in training. But you have to ask why those efforts in training aren't producing improved performances in matches.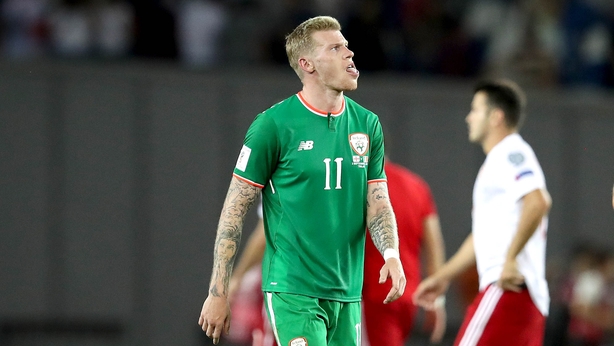 "It's very difficult to understand, we aren't talking about people who are playing in the Conference. It doesn't matter that these players aren't all Champions League regulars. Those comments don't belong here.
"We aren't asking them to play a standard of football that no Irish team has played before, we are asking them to be able to pass the ball one, two or three times in a row to each other, to be able to receive the ball and have a bit of composure to keep it.
"That's not a huge demand for a group of players who play at the level this group of players play at. For whatever reason when they get together there seems to be this collective failing in keeping the ball.
"It's not great to watch, it's not particularly effective and it's not going to get us qualified if we don't improve it."