Republic of Ireland goalkeeper Rob Elliot is relishing life with club and country after bouncing back from what was potentially a career-ending injury.
Elliot suffered a major knee ligament injury while on international duty for Ireland against Slovakia in March of last year, which cost him a year of his career along with a trip to the Euro 2016 finals.
The 31-year-old had to watch from the sidelines as his club Newcastle suffered relegation to the Championship, but he managed to battle his way back to fitness in time for the end of last season as the Magpies won the league and promotion.
Elliot has now established himself as the first-choice goalkeeper at St James' Park, having started each of their three Premier League games this season and is now keen to do the same with Ireland.
He believes that recovering from such a major setback has given him a newfound mental toughness and he's keen to make up for lost time.
"The tough day you have to accept as a tough day and you go home and enjoy your family and wake up and go again the next day."
"Recovering from the injury itself is sort of a mental battle, that's the first battle you have to face when you come back from a long injury," he said.
"Just having the strength to do the little things - the first day you're on a sofa and all you can do is tense your muscle on and off ten times all day basically.
"You just have to apply yourself and think about the things you want to improve, your fitness, your strength and when you get back fit it makes you realise that just training every day, what a blessing it is.
"You just keep working hard, when you're in the gym you work a bit longer and a bit harder and hopefully you reap the rewards when you comeback because you are that bit mentally tougher.
"The tough day you have to accept as a tough day and you go home and enjoy your family and wake up and go again the next day.
"You can't expect to not be human, you have to expect bad days where you just can't handle it and you're in pain, whatever it might be.
"Me and the physio I worked with just had a thing, 'get yourself home, clear your head, come back tomorrow and we'll go again', because if you're not in the right frame of mind you don't want to be doing things when you're not mentally prepared for it.
"I just went away, enjoyed my kids, enjoyed my family and came back the next day just ready to work and go again," he added.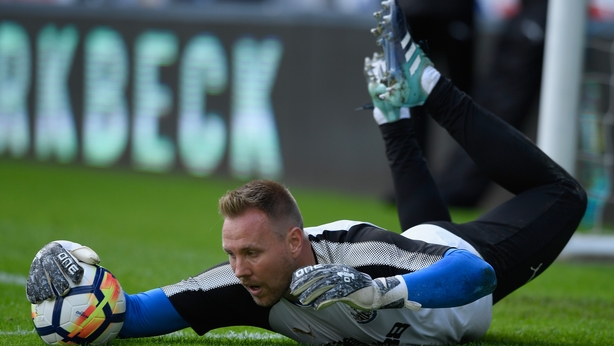 Elliot also believes that the pressure to deliver at a big club like Newcastle has improved him as a player.
Under owner Mike Ashley, the Magpies on-pitch performances have rarely matched their off-pitch support but after bouncing back to the Premier League at the first time of asking there's a new-found belief about the club and Elliot is eager to delivery for the fans.
"The expectation is massive at Newcastle and you just have to take that on board as a player. There's expectation before you've even kicked a ball.
"You've seen it at Newcastle down the years, the first thing I got told when I came there was 'you have to be able to handle playing for Newcastle before you can play for them'.
"It's a strange thing to say to someone but when you get there you realise that it stands you in good stead.
"It makes you tough and makes you realise that there are bad times but if you stick with it and do well, especially for the Newcastle fans, they just want you to try hard and be passionate and do the best you can.
"Obviously that's what I've tried to do and hopefully that's helped me along the way and that can help me when I come away here too."