A vein of international quality will pump through Bluebell United's FAI Cup second-round clash with Cabinteely at Stradbrook Road in Blackrock this Friday night.
In the 'Bell's corner is Keith Fahey: capped for the Republic of Ireland 16 times, an English League Cup winner with Birmingham City in 2011 and winner of Ireland's blue riband cup competition with St Pat's three years ago.
For First Division outfit Cabinteely, there's 39-year-old Jason Byrne: League of Ireland legend, still chasing Brendan Bradley's all-time goalscoring record of 235 and himself twice capped for his country.
Strands of quality players, many with experience of top-level football domestically and across the water, will surround them.
Bluebell have established a reputation for providing high-profile footballers with a platform to relaunch their careers.
Aside from the talent boss Andy Noonan currently has at his disposal, the likes of Richie Towell, Izzy Akinade and Fahey himself – back in 2003, prior to his switch to Pat's – have had spells at the Red Cow-based club.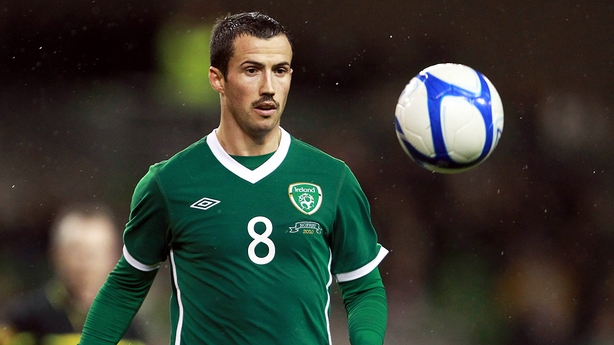 Bluebell midfielder Keith Quinn, brother of Stephen and Alan, is another who's rediscovered his love for the game there.
Both his siblings beat a path to the top at Sheffield United and Keith was tipped to follow in their footsteps.  At one point, all three Quinns were at the club together
A highly-rated talent at the Blades, Keith captained the youth side, and was knocking on the first-team door. As often happens though, that final step to the big time proved the most elusive.
Injuries and the passing of his mother hurt his progress, and Quinn was released shortly after Kevin Blackwell succeeded Bryan Robson as manager in 2009.
It led to the Clondalkin man's first spell at Bluebell. From there he played for a string of LOI clubs – Sporting Fingal, Waterford United, Monaghan, Cork City, Longford and Shels – before coming full circle and re-signing with the 'Bell.
"We've banned Jason Byrne from the Whatsapp group. We've been saying, 'what do we want? Jayo out!'."
The 28-year-old has few regrets, conceding "it wasn't for me", while also highlighting just how tough it is for young men to reach the land of milk and honey that is elite football in England.
"My journey has been up and down," he tells RTÉ Sport. "I only wish I could have had the career my brothers Alan and Stephen have had but listen, it's been okay.
"I've had a couple of bad injuries and a couple of things have happened with my family that have wavered me a bit, but I'm happy.
"A lot of lads think you get flash cars ... but when I was over there it wasn't pretty. You're up early cleaning boots. For Stephen it was the same.
"Sometimes you need the right manager at the right time, you need to be the right age. I was disappointed not to do better over there but it wasn't for me. I did my best and that was it."
There's plenty of sub-plots to Friday night's battle for a place in the quarters.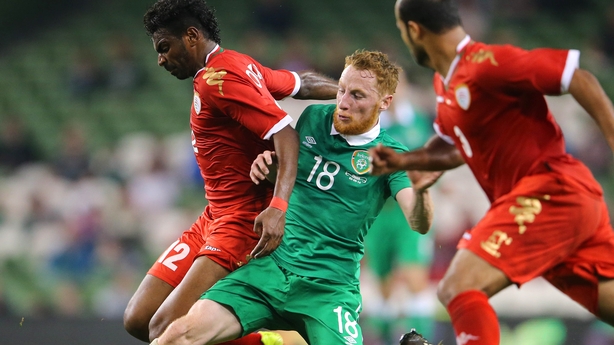 Quinn's nephew Carl Byrne plays right-back for Cabinteely, while Jason Byrne is involved in the Bluebell coaching set-up. He's been kicked out of the club's Whatsapp group this week as the banter flies between both camps.
"We've banned Jason from the Whatsapp group. We've been saying, 'what do we want? Jayo out!'. He's taken it well. Jayo is a great lad.
"He's come on board with us this season and he's been brilliant. For a Leinster Senior League side to get the players and the coaching staff we have... it's second to none.
"My nephew Carl plays right-back for Cabinteely so it's going to be a bit tasty!"
Stephen Quinn, now at Reading, was named in Martin O'Neill's provisional 39-man squad for the upcoming World Cup qualifiers against Georgia and Serbia. He'll hope to add to his 18 Ireland caps; oldest brother Alan earned eight.
"I'm at a stage in my life now where I'm really happy with my football and playing some decent stuff with Bluebell."
Keith Quinn never scaled those heights but he's content and satisfied with the road he's taken, hoping to keep Bluebell's cup dream alive and maybe, just maybe, finally getting to reach the Aviva Stadium himself when the decider takes place in November.
"I'm at a stage in my life now where I'm really happy with my football and playing some decent stuff with Bluebell. Getting back to the level I was at when I was younger will be difficult but the experience I have now over the years playing ball in the league, I'm just enjoying myself.
"Going into the game I think we're quietly confident.
"We played them in pre-season and I know it was their full-strength side but with the players we've got in our squad, they're very talented lads. A lot of them are very experienced.
"You've got Keith Fahey, myself, Tony Griffiths (formerly of Longford Town, Monaghan and Shelbourne), you've got Jordan Keegan (Dundalk, St Pat's, Scunthorpe United), Dean Ebbe, who's got experience in Livingston.
"You can just reel the names off. William McDonagh has played for Carlisle in big games. You've got players going into big games who are confident in their own ability.
"You can't buy that experience."