John Delaney has admitted he's no idea if the World Cup play-offs will be seeded, but is keeping the faith the Republic of Ireland can top Group D and leapfrog those murky waters on the road to Russia.
Ireland's chequered history in the lottery that is the play-offs means there's no huge appetite to slip into the rat race, and with only the eight best runners-up qualifying for the play-offs from the nine groups there's even the prospect that second won't be good enough.
FAI chief executive Delaney is optimistic however that Martin O'Neill's team, second on goal difference behind Serbia in the group with four games remaining, can kick on and book their ticket in style.
"The answer is I don't know, same as yourself," he said at the the launch of the Football For All Strategic Plan when asked if if the play-offs would be seeded.
"We have three wins and three draws and if we can get a good result in Georgia it gives us a great platform for the Serbia match."
"As we face September, my view and I'm sure the manager's view is, let's try and go win the group first. If you get to a play-off, we get to a play-off and we'll deal with it then.
"We have three wins and three draws and if we can get a good result in Georgia it gives us a great platform for the Serbia match.
"One chunk at a time but we've got a good chance. We've got Moldova in October and a big game against Wales at the end but, listen, if you were told at the start that we'd have three wins and three draws from the first six games, all day long we would have taken that."
Delaney also revealed any contract negotiations with O'Neill will wait until after the current qualification campaign, while swatting away rumours of an approach from Israel to lure Roy Keane away form his No 2 role to become their national manager.
Keane double-jobbed with Aston Villa for four months in 2014, assisting Paul Lambert at the then Premier League club before stepping away to focus on his duties with Ireland.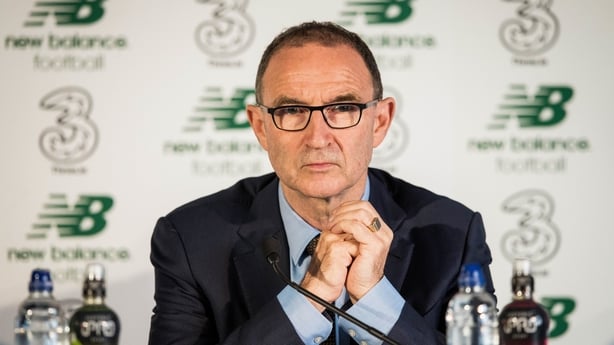 Israel were reported to be making eyes at the Corkman earlier this month but Delaney played down the link, and again talked up the "trust" between the association and the management team in terms of thrashing out a fresh contract.
"That will all be left, it's logical to leave everything until all the games are complete," Delaney said of O'Neill's deal, which runs up until the 2018 World Cup.
"We've got two big matches coming up. I said the last day there's a lot of trust between the management and the association, that's there, it's a good relationship. I know they are standard lines but let's just all focus on Tbilisi and Serbia at home and take it from there.
Of the Keane rumours, he added: "No, that was a strange one really. I think Martin answered that last week. If there had been any contact, it would have been directly from the Israeli FA and we've heard nothing and I don't think Roy has heard anything either.
"Both of them are enjoying their roles; Roy was down in Limerick last week doing a lot of grassroots stuff, it was terrific, Cappamore, Newcastlewest, 10, 11, 12 hours on the grassroots trail which is great and Martin was brilliant at the AGM so they both enjoy it but I suppose when you're winning matches it does help.
"The relationship you have with the manager is really important and it's a results business as well. The public are very warm to the appointment, we've sold 15,500 season tickets so the public like the team, like the management and at the moment things are good."