Less than 15 minutes into his debut, Cillian Sheridan knew that he had made the right decision to bid farewell to the sunny climes of Cyprus, set up shop in far-eastern Poland and sign for Jagiellonia Bialystok.
The former Celtic striker had spent the best part of four years in Nicosia playing for both rival sides of the city, APOEL and Omonia, but as the contract-ending free-agent phase approached, the Polish side came in with an offer for a striker with whom they had shared some previous history.
Sheridan's goal for Omonia had knocked Jagiellonia out of the Europa League a year previous and the 6ft 5in Cavan man remained on their radar, eventually joining the club last February and immediately helping his new side to their best ever finish in the Polish top flight, claiming the runners-up place in the league.
"I remember the first game here, the first 10 to 15 minutes, the pace of the play and the atmosphere, everything felt really good and I remember thinking 'this suits me a bit better now'," Sheridan told RTE Sport, speaking from his new home in Bialystok.
"Playing in big stadiums with good atmospheres can make a big difference, and it feels like you're playing proper football.
"I haven't played yet at [Lech] Poznan or [Legia] Warsaw but even those games in our place were full with 22,000, and the atmosphere is completely different to the UK with everyone shouting and singing for nearly the whole game.
"It has that feeling of those kind of atmospheres [at Celtic Park] and while you got it at the big games in Cyprus, it is different, as the stadiums there are very open, so you lose a lot of the noise."
Of course, Sheridan played plenty of "proper football" in Cyprus, most notably lining out in the Champions League group stages, taking on Barcelona, Paris Saint-Germain and Ajax.
But the Polish challenge presented itself and Sheridan was won over by the approach and commitment that the club showed, coming in with an offer before that often-uncertain period in the free-transfer shop window.
"I was in the last six months of my contract so I was getting offers to come on a free, but then Jagielloni came in looking for a transfer, so you know that they are a lot more serious.
"You'll always hear players say 'I felt like they wanted me the most' and that was the case for me previously when I went to Omonia, and it can influence the decision."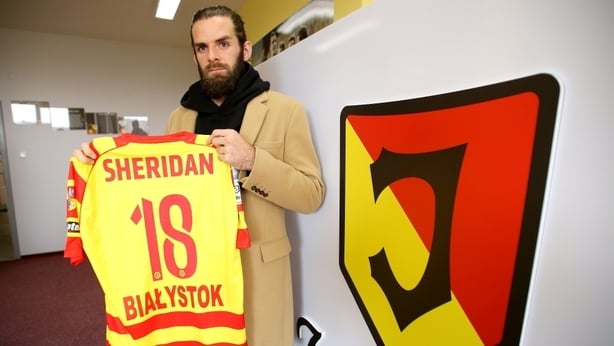 The investment is already paying off for the Bialystok side as Sheridan hit the ground running with his new club, scoring eight goals in 14 league matches, as the club finished second in the league last season.
"You want to get that goal as soon as you can. I think I played two or three games and I hadn't scored but I was playing good and involved in the games, so I wasn't that worried and once the goals started to come, that settled everything and cemented how I was feeling."
And following the all-too-short off-season break – "only 11 days," lamented Sheridan -  the striker was back in business, helping the club to four wins and a draw in their opening six games, scoring three league goals in the process.
A new manager has taken over the reins since Sheridan arrived at the club, but the former Celtic striker has been an ever-present this season and helped the club move top of the table on Saturday evening with a dominating display at home against Slask Wroclaw, as the visitors clung on for an undeserved 1-1 draw.
Sheridan prefers to lead the line rather than play in a formation with two strikers, however, the 28-year-old admits that he is happy as long as he is playing, which has not been a problem since arriving in Poland.
"Because we have a new manager, we have been playing a different way.  Sometimes playing with two strikers, sometimes with me up alone.
"I prefer to play up front on my own with a number 10 and two wingers because for nearly the whole time in Cyprus that was how we were playing and you get used to it and it suits me better.
"But then when we play with another striker, it reminds me of playing back in Scotland. But I'm easy, if I'm playing good and scoring, you're not too worried about what system you are in."
Life in Poland
The journey from Szczecin to Bialystok takes nine hours by coach.
Starting out on the western frontier where Poland meets Germany on the coast of the Baltic Sea, this particular long and winding road travels the entire width of the country before ending up on the far frontier by the banks of the Biala River, just a stone's throw from Belarus.
For Sheridan, having spent a year in Bulgaria at CSKA Sofia, the new Polish surrounds were never going to cause too much of a shock to the system, but he soon discovered how vast the country is after such a marathon post-match coach journey home.
 "It's been pretty easy to settle. It's always easier when you start good and football is going good, like everywhere, everyone's your best friend.
"But here they have been very good with me, it's a very friendly city and a small, close-knit place.
"The one thing I underestimated was the size of the country and travelling to away games can be a bit of a nightmare.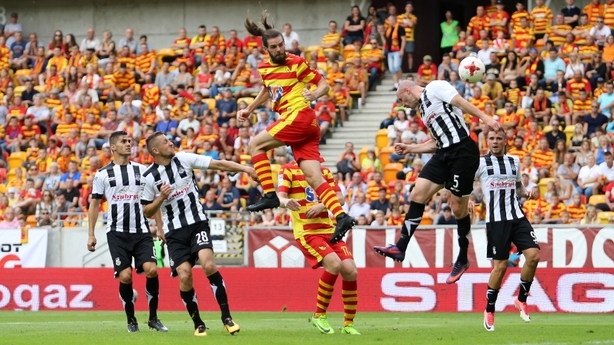 "We got a train to Warsaw and then flew to Szczecin. But when you are coming back from games, there are no trains or planes, it's a bus.
"From Szczecin, I think it was nine hours, so it gives a bit more determination to get a good result.
"There's nothing worse than a long journey like that after getting beat."
And while Sheridan has adapted to each cultural challenge that has presented itself, the striker's footballing education has also had to evolve, with the change from Cyprus to Poland really forcing him to work harder on his game.
"It's a much more even league in Poland as a bottom team could beat a top team. Three or four teams have a bigger budget than the rest, but in general, it is a pretty even league with every game a hard test.
"There are lots of good young players here who get moves to big European leagues, so that backs up the standard of the players who are here."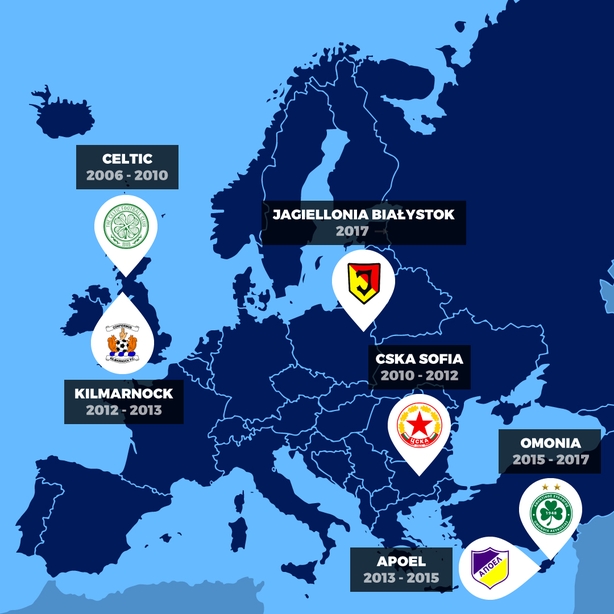 In fact, several members of Poland's Euro 2016 squad remain playing in the Ekstraklasa (Polish top flight), while Jakub Wawrzyniak of Lechia Gdansk and Legia Warsaw pair Michal Pazdan and Krzysztof Maczynski both started against Ireland in the final group game in the qualifying campaign – the 2-1 defeat in Warsaw that sent Ireland into the play-offs against Bosnia-Herzegovina.
And Sheridan has adapted accordingly, working hard on his fitness and style of play to suit his new surroundings.
"To come here from Cyprus was a big change in the style of play. Cyprus was much more relaxed and wasn't as physical.
"When I came here first, I couldn't finish 90 minutes in the first two or three games, I was getting cramp. While in Cyprus, I considered myself one of the fitter players, so I was a bit taken aback.
"It's another aspect of my game, where I have had to improve. You have to learn the little things like getting away from a guy and do a lot more work to get into the box and get on the end of a cross."
Vegan Diet & Yoga Classes
It may be over a decade since Sheridan burst into the Celtic side, facing Manchester United in the Champions League, but the three-time capped Ireland striker is still six months shy of his 29th birthday, and a range of lifestyle choices, including turning vegan and starting yoga, have also contributed to getting himself into prime condition for the peak of his playing career.
"It's over a year since I started [being vegan], to try it, and I started feeling the benefits, and feeling much better, energy wise and everything, so I've just kept going.
We need your consent to load this Instagram contentWe use Instagram to manage extra content that can set cookies on your device and collect data about your activity. Please review their details and accept them to load the content.Manage Preferences
"Day-to-day, my breakfast, lunch and dinner, I'll do it properly. But for me, it's been easy because I can feel the benefits of it so much, so it's never been difficult for me. And I enjoy cooking so it's not as hard as it sounds."
"Eggs and milk are the big things that you don't think of. Cakes are probably the biggest thing I miss.
"My energy levels were much higher, especially in the first month, six weeks, which is when you notice the big difference.
"I started to do it in our pre-season in Cyprus and it was the best I've ever felt doing pre-season. I wasn't sleeping in between sessions, I was just always ready to go."
We need your consent to load this Instagram contentWe use Instagram to manage extra content that can set cookies on your device and collect data about your activity. Please review their details and accept them to load the content.Manage Preferences
The yoga soon followed as Sheridan looked to improve his flexibility, as he noticed that he was trailing behind many of his European counterparts in that department.
"I started yoga eight months ago, for my flexibility. All the other Europeans were miles ahead in terms of flexibility and stretching. And again I started to feel much better in games and in training. But it's hard, a lot harder than I thought.
"But at the end of a class, I feel 100 times better – that sense of achievement is worth it."
The Road Less Travelled
Growing up in the Gaelic games heartlands of Cavan, in a town where the local Shamrocks club is the perceived path for every budding youngster, Sheridan eventually took the rocky road to Dublin to play schoolboy football with the famous Belvedere YC on the northside of the capital, before securing a move to Glasgow giants Celtic.
The towering striker broke into the Celtic team as an 18 year old and tasted the highest levels of European football, albeit briefly, before setting off on his travels in search of regular first team football.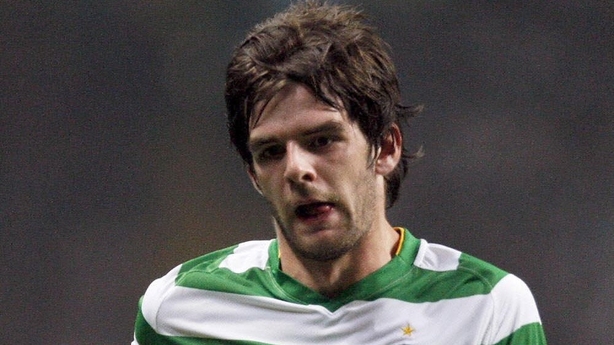 Little did Sheridan know where that road would take him as he made the relatively short hop to Motherwell, before stretching his legs on a pilgrimage, of sorts, to the south coast of England for a further loan spell at Plymouth Argyle.
Loan club number three was back north of Hadrians Wall at McDiarmid Park where Sheridan found his form, scoring six goals in 16 games for St Johnstone.
From Baileborough to Belvedere, Celtic to Cyprus, Sheridan has never shirked a challenge and has always being willing to take the road less travelled.
And the next stop of this, still-fledgling, career certainly came in from left field as Sheridan opted to move to Bulgaria to play for the renowned CSKA Sofia side.
One year on, Sheridan was back in Scotland and back scoring goals in the Scottish Premier League with The Saints and then Kilmarnock, before an injury led to an extended spell on the sidelines and a summer exit from the Perthshire club.
This time the sunny shores of Cyprus beckoned Sheridan as he began a four-year sojourn on the shores of the Mediterranean Sea, enjoying spells at the aforementioned APOEL, followed by 18 months at Omonia.
Sheridan is just mid-way through the first 12 months of his two-and-a-half year contract in Poland, but you get the sense that this footballing odyssey is far from finished.
"Wherever it takes me," said Sheridan regarding his future. "There's nowhere within reason that I'd say, 'I coudn't see myself moving there or playing there'.
"One of the biggest things that I have done was moving to Bulgaria so young – that made it easy to go anywhere. Because I've always said, if I can live there for a year, I can live anywhere.
"The biggest thing is getting used to the fact that you are not in Ireland or the UK. You learn that not everything has to be done the way we do it. And I think once you get that around your head, it can make it a lot easier."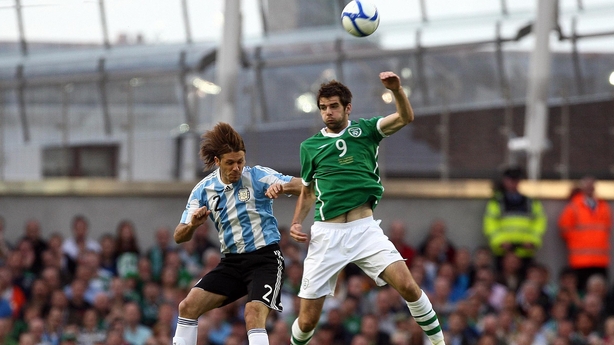 Ireland Ambitions and European Dreams
Looking back on his European football experience, Sheridan admits that he probably did not appreciate the level he was playing at when thrown into the Celtic Champions League cauldron.
The striker yearns for another go at playing at that elite level as he believes that he would be much more effective as a result of where he is in his football journey.
"The first time, playing Champions League, because you were at Celtic, it was expected and it was not seen as such a big thing, and I was young at the time so I did not really appreciate it for what it was.
"It is only when you are at places that have no chance of ever being at that level, then you realise how big it is.
"So then to go back and do it with other teams in Cyprus and Bulgaria it made it feel much better to qualify or getting through each round."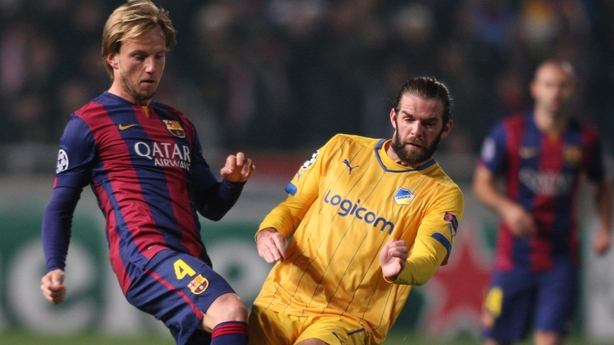 And the ultimate test soon followed as Sheridan and APOEL took on the mighty Barcelona in the group stages, where Sheridan felt that he and his team performed admirably, especially against the other two teams in the group PSG and Ajax.
"I done OK. I don't think there was ever a time that us as a team or myself embarrassed ourselves. I think we were able to hold our own, to a certain level.
"Against PSG we lost to a 90th-minute goal and when we played them away, we lost 1-0 to a first-minute goal. So in terms of that, I thought we did OK.
"But I'd love to have done it with the way my mindset is now with football, I think I would have fared a lot better."
Sheridan's Polish adventure may not gather the exposure or column inches afforded to most other Irish footballers playing at a similar – or inferior – professional level closer to home.
And the striker has yet to get the recognition from current Ireland manager Martin O'Neill who appears happy to overlook an eligible player, despite playing at a decent level of European football.
It is evident that Sheridan still harbours hope for another international call-up but chose to maintain a respectful silence on the issue.
But should his goalscoring form continue in Poland over the coming months, it will be the Ireland manager who will have to offer valid reasons for his exclusion.
From The Sheriff to Mr Sherry
Sheridan's career path may not conform to traditional Irish footballer exposure rules, however, the always-interesting Cavan man has built up quite the following on social media, with almost 35,000 following his movements on Twitter (@CillianSheridan) and Instagram (thesherifff).
We need your consent to load this Instagram contentWe use Instagram to manage extra content that can set cookies on your device and collect data about your activity. Please review their details and accept them to load the content.Manage Preferences
And Sheridan has recently added another string to that particular bow as he has introduced the world to 'Mr Sherry', an iTunes-available podcast where the rambling son of Ireland likes to "spit some fire" on a wide range of topics from whether or not ketchup should be kept in the fridge to those three seconds of fear when you drop your phone to see if the screen has smashed.
Sheridan will also dip his toe in matters of a more meaningful nature as he gives a great insight into the use of Video Assisted Refereeing (VAR) in the Polish league, while also offering excellent viewing suggestions for Netflix – and those nine-hour coach journeys.
Sheridan has also a penchant for the trials and tribulations of Seinfeld creator Larry David and the podcast can certainly veer into football equivalent awkward scenarios, most recently the dilemma of a goal scored by Sheridan, which was chalked down as an own goal.
"I don't know what the story is with that or who I need to get on to, to get it," he explained.
"I've seen it on the video and I was thinking 'it was clearly my goal', but because we lost, I couldn't go in after the game saying 'I scored, that was my goal' and people would be like, 'come on, it doesn't matter the team lost'."