With the 25th season of the Premier League about to get underway, what better time to take a look back on some of the biggest Irish moments in the league? We take you through 25 to 11 today, with the top ten coming your way on Friday.
25 Phil Babb's painful collision
Phil Babb's Liverpool career never really lived up to its early promise. Signed from Coventry City for £3.6million on the back of a great 1994 World Cup performance alongside Paul McGrath, the Irish international was the most expensive Premier League defender at the time.
Unfortunately for Babb his most memorable Anfield moment came four years later when the Reds hosted Chelsea. Having seen his side caught out at the back, the Irish international slid in to try and block Pierluigi Casiraghi's goalbound shot but succeeded in making an eye-watering collision with the post.
We need your consent to load this YouTube contentWe use YouTube to manage extra content that can set cookies on your device and collect data about your activity. Please review their details and accept them to load the content.Manage Preferences
24 Three of the Best
Leon Best became one of only three Ireland internationals to score a hat-trick when he fired his Newcastle side to a 5-0 victory over West Ham in 2011.
Making his first start for Newcastle, Best opened the scoring on 18 minutes with a well-struck volley. He added a second six minutes later from close range before completing his hat-trick on the hour mark when, having found himself in space, he controlled a long through ball before firing the ball home.
23 Robbie joins his boyhood club, again
Robbie Keane joined his third or fourth boyhood club in July of 2008 when he made the biggest move of his career by leaving Tottenham for Liverpool for a £20m fee.
It didn't work out as well as the top Ireland goalscorer would have hoped however. Signed by Rafael Benitez as a goal-poacher, the then Liverpool boss tried to change Keane's game at times, playing him out wide and it was no surprise when Keane returned to Tottenham six months later, with Liverpool taking a £7million hit on the price they'd paid.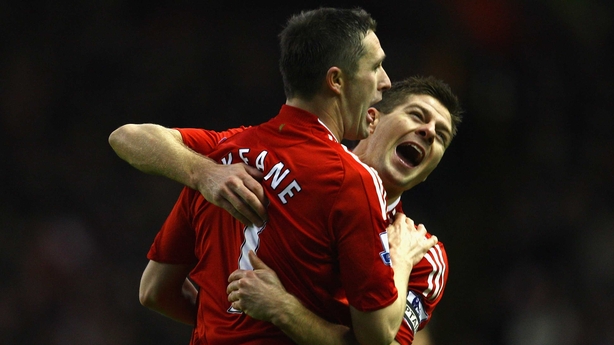 22 David O'Leary's babies
David O'Leary and his Leeds babies were everybody's second team for a while there at the turn of the millennium. Not much was expected from O'Leary when he took over from George Graham as Leeds manager in 1998 but he quietly went about his business putting together a very young side which exceeded all expectations.
Under O'Leary, Leeds never finished outside the top five of the Premier League and they made it to the semi-finals of the Champions League but serious financial mismanagement saw them forced into selling Rio Ferdinand to Manchester United and O'Leary left soon after due to a falling out over that sale.
21 Delap flings success Stoke's way
When Stoke City were promoted to the Premier League in 2008, few people expected Rory Delap to be their most important player that season, but his long throw-ins were instrumental in their success as they finished 12th in the league.
Teams coming to the Britannia to face Stoke had no answer to Delap's long throw-ins which caused all kinds of problems for the opposition as he hurled the ball into the penalty area with such accuracy that seven of Stoke's first 13 league goals that season were assisted by his throws.
We need your consent to load this YouTube contentWe use YouTube to manage extra content that can set cookies on your device and collect data about your activity. Please review their details and accept them to load the content.Manage Preferences
20 Put it in your book Roy
With the events of Saipan still fresh in the memory and Roy Keane's autobiography have just being published, all eyes were on Keane and Jason McAteer when Manchester United travelled to Sunderland in 2002.
Few sparks flew between the pair until a 73rd minute foul by Keane on McAteer when the two had to be pulled apart, with the Sunderland man gesturing to the United skipper to 'put it in his book'. That gesture clearly got to Keane who waited until injury-time to a launch an elbow in the side of McAteer's head for which is was shown a red card and fined two weeks' wages by Alex Ferguson.
19 O'Shea keeps a clean sheet
Manchester United were cruising to a 4-0 victory over Tottenham at White Hart Lane in 2007 a clash between United goalkeeper Edwin var der Sar and Robbie Keane left the Dutchman with a broken nose and unable to continue.
With no other goalkeeper available to replace Van Der Sar, it fell to O'Shea to go between the sticks and he managed to keep a clean sheet. "I'm very proud," he said afterwards. "I asked Edwin whether he had a clean sheet bonus when we got into the dressing room because I want half of it!"
18 Irish trio push Villa to the brink
In the inaugural Premier League season the landscape of soccer was much different than it is now and Aston Villa were top of the table with six games left to play, thanks in no small part to Paul McGrath, Steve Staunton and Ray Houghton.
Both Irish defenders played every league game of that campaign and both enjoyed one of the best seasons of their careers, while Houghton offered the side some much needed creativity but Villa would suffer a late season collapse and it was Manchester United who pipped them to the title.
17 Joe Kinnear turns the air blue
Former Ireland international Joe Kinnear doesn't seem to be a man to give up his grudges lightly and so it proved in October of 2008 when seemingly out of the blue, he was appointed as Newcastle United manager.
It took Kinnear just four days to get into the swing of things and in his first major press conference, he launched an extraordinary attack on the assembled media, singling out individuals for the harshest of criticism. "Which one of you is Simon Bird?," he started with. "You're a c***." It went downhill from there and, in whole, Kinnear swore 52 times in five minute as he lost the plot.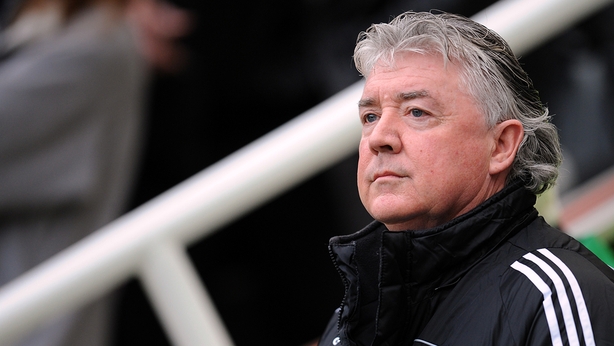 16 Low point for McCarthy's Sunderland
There's an argument that says Mick McCarthy is the best manager to ever take charge of the Republic of Ireland team, taking his team to the 2002 World Cup. However 2006 wasn't a vintage year in the managerial career of McCarthy.
Under McCarthy's stewardship, Sunderland had been promoted the season before as champions, winning the Championship with an impressive 94 points. Things were different in the top flight though and with just three league wins all season, Sunderland were relegated with a record low of 15 points and McCarthy was sacked with Roy Keane replacing him.
15 Perfect hat-trick for Walters
Jon Walters marked his 200th appearance for Stoke in some style back in 2015 when he scored the perfect hat-trick against QPR, leading the Potters to a 3-1 victory.
Walters joined Robbie Keane and Leon Best as the only Irish internationals to score a Premier League hat-trick and he did so in memorable fashion, scoring with his left foot, his right foot and his head.
14 Perfect nightmare for Walters
While that hat-trick may mark a career highlight for Walters, it's in stark contrast to the nightmare game he endured against Chelsea in 2013 when Stoke welcomed the Blues to the Britannia Stadium.
It's hard to imagine how things could have gone worse for Walters that evening when he not only scored two own goals, heading into the Stoke net twice, but also missed a penalty. "He scores when he wants, he scores when he wants, Jon Walters he scores when he wants," came the cry from the Chelsea fans as their side won 4-0.
13 Keane loses it against Shearer
Roy Keane makes his second entry of this list and unsurprisingly it ends in him being shown a red card for Manchester United, this time against Newcastle.
Keane and Alan Shearer had a tempestuous relationship down the years but it all came to a head in 2001 when Shearer frustrated the United skipper by time-wasting at a throw-in and saying something to wind him up. The Newcastle man got the reaction he wanted as Keane first threw the ball at Shearer's head then threw a punch, which missed, and he was duly sent off.
We need your consent to load this YouTube contentWe use YouTube to manage extra content that can set cookies on your device and collect data about your activity. Please review their details and accept them to load the content.Manage Preferences
12 Bertie's Premiership debut
The Celtic Tiger years were pretty out there and no-one was immune. It therefore seemed to make perfect sense at the time for the Taoiseach of Ireland Bertie Ahern to turn up on RTÉ's Premiership highlights show and join Eamon Dunphy and John Giles for their analysis of the weekend's action.
It's not a decision which has aged well.
11 Keane leaves United
Officially it was all done by mutual consent but when Roy Keane parted company with Manchester United in 2005 it was clear that the decision for him to go was solely down to manager Alex Ferguson.
Ireland's most successful player ended a 12-and-a-half year association with United under a cloud and following weeks on tension at the club. Keane's relationship with Ferguson had broken down after comments by Keane on the MUTV, in which he criticised seven of his team-mates. Keane was then reported to have been stripped of the United captaincy by Ferguson in a heated row and there was only ever going to be one winner in that situation.
Check back on Friday when we'll have the top ten memorable moments, unsurprisingly featuring Roy Keane heavily.