Didi Hamann believes the use of video assistant referees (VARs) is "farcical", and warned the system cannot work in the long run.
VARs have been trialled in recent international friendlies and are currently being used at the Confederations Cup in Russia.
Portugal had an early effort controversially disallowed by the video referees during their 2-2 draw with Mexico on Sunday afternoon.
Defender Pepe thought he had opened the scoring in the 21st minute when he turned in a cross-shot after Cristiano Ronaldo had smashed a shot against the crossbar, having blasted his initial free-kick into the defensive wall.
However, Argentinian referee Nestor Pitana called for a review from the VAR and it was eventually ruled that Pepe was one of four players who were offside from Joao Moutinho's first cross into the box following the failed set-piece.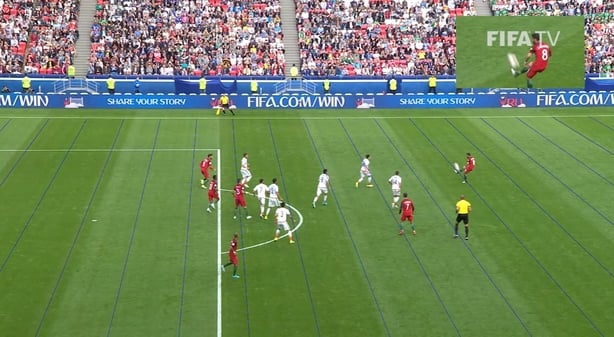 The decision - and time it took to get there - sparked debate in the RTÉ studio after the game.
"I don't see it working," Hamann said. "You can only challenge things which are not being given.
"There will be situations in the game where a guy is given offside, where he's one on one with the keeper, the flag goes up, play is stopped and it's a free-kick to the defending team.
"You can't take it back. So you can only challenge what's not been given.
"The other option is, they replay every offside decision, or close offside decision. This will hold up the game no end.
"How it's feasible, how it's possible to implement the video technology into the game I don't know."
Brian Kerr argued that any change to the game causes a degree of confusion initially but said this particular amendment deserves time to bed in.
"I think it's too early to be making a decision and saying it's not going to work.
"Others things have changed in the game. This one will be the most controversial thing that's ever been done, but I wouldn't cast it aside because there's been problems in the early stages."
There was more controversy in the evening kick-off between Chile and Cameroon.
Eduardo Vargas thought he'd put the Chileans ahead in the first half but, after some deliberation, the VAR judged he'd been in an offside position when he raced on to a through ball and slotted home.
"Even if I'm sitting up in the office he's still onside to me," Damien Duff said. "I don't know what they're calling there, what they're seeing."