Two-goal Cristiano Ronaldo thanked Real Madrid manager Zinedine Zidane for a halftime team talk that fired the Spanish club to a 4-1 victory over Juventus in the Champions League final.
Juventus were still hopeful of winning the trophy for the first time in 21 years as they reached the interval at 1-1, but Real found several extra gears to streak away and become the first club in the Champions League era to lift the trophy in successive seasons.
Ronaldo underscored his status as Europe's most lethal striker with the first and third goals as Real were crowned champions of Europe for a record-extending 12th time.
His career total in all competitions now stands at 600, a record 108 of which have come in the Champions League.
"I prepared myself for this, you win the biggest prizes because of what you do at the end of the season," Ronaldo, who has benefited from playing fewer games than in previous campaigns, said as his team mates celebrated.
"Zidane gave us a very positive halftime team talk and told us he really believed in us," the Portuguese added.
"It has been an incredible end to the season by us. We are the first team to win it two years in a row and I scored two goals. It's another record for us and the players deserve it and so do I because I scored twice and I'm the top scorer in the Champions League."
Isco, who kept Cardiff-born Gareth Bale out of the starting line-up, described it as Real's best performance of the season as they outclassed Italian champions Juventus in the second half.
"The first half was really tough, against a brilliant team in every aspect, but in the second half we saw the best performance from Real Madrid all season," he said.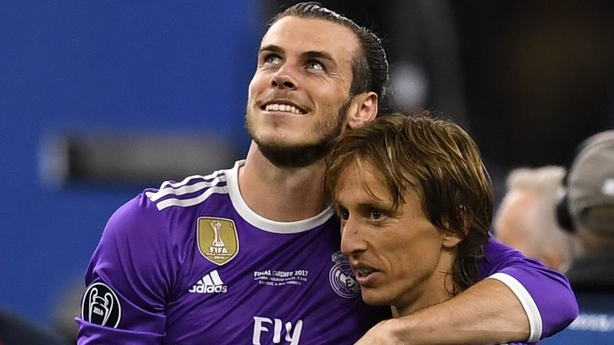 Bale made a late cameo appearance, coming on for Karim Benzema in the 77th minute with the job done.
"What an incredible scene, the stadium is incredible and the city did an immaculate job in hosting such a great event," the Welshman, who picked up his third Champions League winners' medal, said as the celebrations began.
"It's been a hard season, but I've worked hard and didn't think I would make the final but I worked tirelessly at home and this is the reward.
"We have made more history, we are very happy to win the 12th."
Real's World Cup-winning midfielder Toni Kroos hailed Ronaldo and revealed he did not expect to defend the trophy successfully.
The 27-year-old said of Portuguese playmaker Ronaldo: "Everybody knows that he is very important. As a team we played very good in the quarter-finals, semi-finals and today but at the end you need a guy to score to win this title and he did.
"He was fantastic, this past few months."
Kroos added: "I didn't expect it would be possible to defend this title as it's so difficult to win it once. But to do it twice in a row is unbelievable.
"To win it three times in the last four years means a lot. It means it's not only a good team on the pitch but off the pitch. It's like that and I'm happy to be part of the team.
"We knew that Juventus are an unbelievably good defending team. Before today they only had (let in) three goals (in the competition) and today four in one game. It shows our quality."
Real Madrid celebrate in Cardiff. #UCLfinal #RTEsoccer pic.twitter.com/hfj4lTlBrv

— RTÉ Soccer (@RTEsoccer) June 3, 2017