Defender Shane Duffy has assured fans that the Republic of Ireland side will be ready to deliver when it comes to next week's World Cup qualifier against Austria, despite a tepid display in Thursday night's defeat by Mexico.
An unfamiliar Ireland selection were comprehensively outclassed, losing 3-1 in New Jersey, as manager Martin O'Neill handed opportunities to a number of fringe players and several new faces, while tinkering with a three-at-the-back system.
Duffy acknowledged that the unusual look of the team contributed to the poor performance, telling RTÉ Sport: "It's difficult out there, we were up against a good side and a lot of us have never played together.
"It's been just a week training and then you're into an international fixture. 
"[The new system] was an experiment and you've got to take what you can out of it. I think there was positives in that game for us to take out.
"I think we started quite well with three at the back and then obviously they scored and they got on top a little bit.
"We're here for preparations for [Austria], that's the key. That's the main game and everyone in that changing room knows we'll be ready for that game."
Irrespective of the result, Brighton man Duffy was delighted to get 90 minutes under his belt in his first game since fracturing a metatarsal nearly three months ago.
"Obviously you don't want to lose the game, so it was a disappointing night result-wise, but for me I'm delighted with 90 minutes. I felt good, and fitness was actually better than I thought it might have been," the Derry man said.
"It's another step to where I want to be, and that's the road you have to take when you've been out for so long. I'm delighted with how that went."
With another game against Uruguay in Dublin on Sunday before facing Austria, Duffy is keen to get as much time on the field.
"I'll see how I am tomorrow, obviously. I'm still young, so I feel like I want to play every time that I can. I think I could but that's not up to me, but I'm young, fresh and hungry to play all the time. If I get another start I'll be delighted."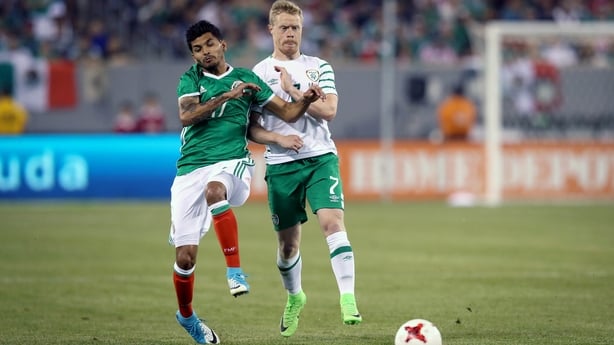 Another player sure to remember the occasion despite the result is Daryl Horgan, handed his first start in the green jersey, albeit in a central midfield position he admitted he was unfamiliar with.
"It was brilliant. It's always great to play for Ireland and to start is fantastic. The result is obviously a bit of a dampener at the minute, but it's still very good.
"It was a tough game, Mexico are a very good side, they are ranked 16th in the world and they're not there for no reason. They hold onto the ball very, very well.
"The manager thought I could do a job [in midfield], and if he sees me there in the future it's definitely something I'll have to work on. There's a lot to improve upon, and hopefully when I have a look at the game we'll see where I can improve."
Like Duffy, Horgan has hopes of being involved against Uruguay, but knows that all eyes will be on the following week's Group D qualifier.
"I don't know what [the manager] will do to be honest. It'll be another great game, a great occasion, but look, it'll all boil down to Austria - that will be the game that the summer is judged upon and we know there is a good enough squad there to get a result and put a bit of distance between the two of us."