Manchester United fans stood unbowed in the wake of the attack that rocked their city, with supporters uniting at home and abroad ahead of the Europa League final.
A long, arduous continental campaign comes to a conclusion this evening as Jose Mourinho's men take on Ajax at Stockholm's Friends Arena (kick-off 7.45pm, live blog on RTÉ.ie).
The match takes place less than less than 48 hours after 22 people were killed and many more injured in a bomb attack at the end of pop star Ariana Grande's concert at Manchester Arena.
The city has shown incredible strength, spirit and solidarity since the explosion, so too football fans during this difficult period - epitomised by Jim Hardie, a United fan from Brooklands.
"I've got a grandchild, I've got a kid," he told the Press Association in Stockholm, where he was when news of the attack on Manchester filtered through.
"It's just devastating news, but we won't be broken, we'll just carry on. It is as simple as that.
"It would be wonderful for us to take the trophy back to Manchester, it really would.
"After things happening like this, it just would be really nice to lift it.
"But Manchester is so strong, the people are so strong, the community is so strong and they can never beat us. They can never, they can never ever beat Manchester.
"It would be fitting for the kids, the families and everything else. Manchester will never die."
Ross Smith of Whitefield joined him at the Europa League fan zone in Kungstradgarden - and only wished he could have helped at Manchester Arena.
"I actually work for the emergency services and I got a phone call in the early hours to say, 'Can you come into work?'," he said.
"Unfortunately I was in Poland en route to Stockholm and, to be fair, it made me want to be there with my colleagues pulling together and doing my bit for our city.
"You just see the community spirit that the city's got. And for the first time ever we might have whole of Manchester behind us in one game.
"It is surprising what we can do when we all look after each other."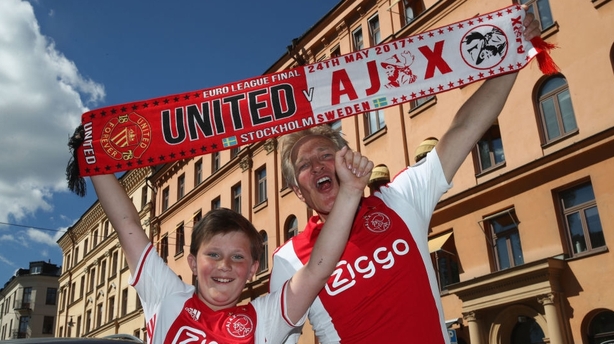 Stockholm was a sea of red and white ahead of kick-off as United and Ajax fans mingled in the Scandinavian sunshine.
Unofficial half-and-half scarves were being sold on street corners across the Swedish capital, including outside the Ahlens department store that a hijacked lorry ploughed into in an attack last month.
Five people were killed and thousands of post-it notes have been left on the boarded-up window on the corner of Drottninggatan and Master Samuelsgatan.
"As terrorists you have failed," read one message. "We. Are. Not. Scared."
They are sentiments shared by those that have travelled over from Manchester for a match in which United's players will wear black armbands.
A minute's silence will be observed before kick-off at the Friends Arena, where a tribute banner will be displayed reading 'Manchester - a City United #prayformanchester'.
A strong security presence will welcome supporters, but UEFA said there is "currently no specific intelligence" suggesting the final, or activities around it, could be targeted.
United did not hold a press conference on the eve of the match as UEFA granted their request in the wake of the attack, but the squad went on a walk around the pitch after holding a minute's silence at training in Carrington.
Everyone at the club has been offered counselling and the party scheduled for club staff has been cancelled.
The Manchester United Supporters Trust plan to screen the match in front of around 2,000 fans in the UK, where a collection will be held for the victims of an attack that spokesman Sean Bones said had left all Mancunians "numb".
"But we want the team to represent Manchester United and represent Manchester, to give 100 per cent, and to show the very, very best of what Mancunian spirit is all about," he said.
"What we want to do obviously is represent Manchester in the best way, we want the supporters to represent Manchester and we want the football team to represent Manchester, and show the Manchester spirit."