Local politicians, former players and fans condemned the owners of Blackburn Rovers on Monday, after one of England's best-known clubs became the first-ever former Premier League champions to be relegated to the third tier.
Rovers' fate in League One was sealed on Sunday when they finished just below former double European champions Nottingham Forest in 22nd place in the Championship.
It marked another low for Venky's, the Rovers' owners, a company run by the Rao family from India. In less than seven years, the club has seen two relegations and 10 managers.
Twenty-two years after winning the Premier League title, Rovers are deep in crisis, with director of football and operations Paul Senior resigning on Monday.
They promised to sign Ronaldinho and make Rovers a top four club in the Premier League
"For the club to drop into League One will knock Blackburn and East Lancashire off the map," said Graham Jones, the Labour MP for Hyndburn, which adjoins Blackburn, in the British general election next month.
"It is really important the owners recognise the damage that's been done not just to the football team but to the area," he told the Lancashire Telegraph. "They promised to sign Ronaldinho and make Rovers a top four club in the Premier League.
"At the moment they'll be lucky to make Blackburn a top four club in League One."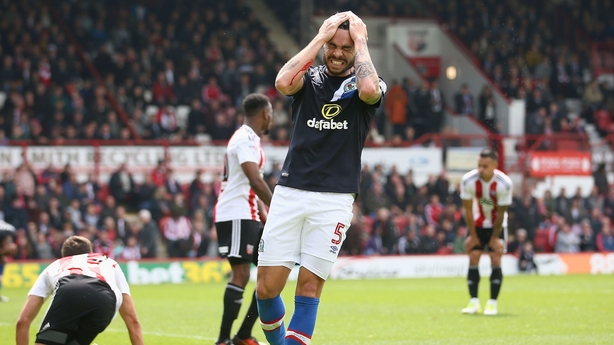 Blackburn Labour MP Kate Hollern, who is standing for re-election next month, said: "Venky's need to engage with the fans and share their plans for the future.
"If they're not interested, they need to move on. There has already been far too much damage to what should be a community asset."
Rovers' fans have staged protests against the owners all season. Hundreds stayed behind to chant anti-Venky's chants after Sunday's 3-1 victory at Brentford.
"We are in a spiral of decline with owners who seem to have lost interest with their toy. The whole thing is a shambles," said John Murray, chairman of the Blackburn Rovers Supporters Trust.
Former players also criticised the owners. Ex-England captain Alan Shearer posted on Twitter that they "deserved it (relegation)."
Another veteran of the 1995 title winners, Kevin Gallacher, joined in the criticism of the Venky's.
"They have not understood football, they've not understood the people of Blackburn," Gallacher told the BBC.
None of the Rao family, whose base is in Pune, India, attended Sunday's game. In 2010, they paid £23m to purchase the club from Jack Walker Trust, set up by its billionaire former benefactor, but have been accused of under-investment and have refused requests to sell.
Recent accounts showed club debts of more than £106m.
The owners did not respond to requests to comment on Monday.