Martin O'Neill has admitted scoring goals does not come easy for the Republic of Ireland - and he is open to calling red-hot Cork City striker Sean Maguire into his panel.
The 23-year-old Kilkenny man found the net 29 times last season - including the dramatic FAI Cup final winner against Dundalk - and has carried that electric form into this campaign.
His performances have caught the eye of Preston North End boss Simon Grayson, who watched him at St Pat's last month. Grayson brought Dundalk pair Andy Boyle and Daryl Horgan to Deepdale last winter.
The young lad's done very, very well
O'Neill too has shown his willingness to give domestic talent a chance on the international stage, and he is keeping the door open for Maguire to make the step up.
"Of course I'd consider him," O'Neill told RTÉ Sport's Tony O'Donoghue.
"I have plucked players from the League of Ireland, and I'm not averse to that at all - absolutely not. I'll have a look at it.
"The young lad's done very, very well. I saw quite a few games last season; not so much this season I must admit, when he's doing well.
"But it's pretty easy for me to get the games now. In terms of bringing someone in, again, I'm not averse to that. I want them to feel as if they've earned that right."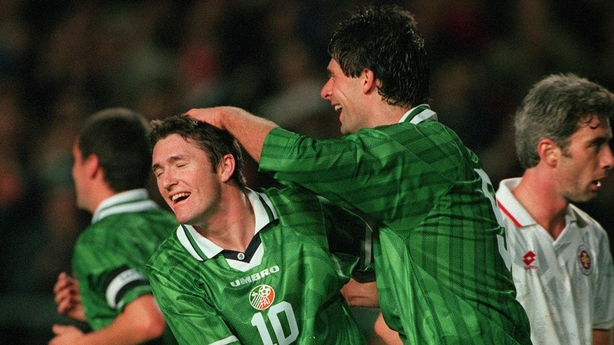 Ireland do not have a track record of producing natural goalscorers in recent years.
Robbie Keane's record haul of 68 goals for his country looks like it could remain intact for a long, long time and O'Neill said his team have had to find a way to hit the net from all over the field.
"That has been a problem position for us. You'd have to say that over the last 15 years, only Robbie Keane has come up and scored the requisite number of goals.
"We've had to try and share the goals around. In the European Championships, Jon Walters came up very, very big for us, very big indeed, and from a wing position I have to say James McClean has as well in this particular campaign.
"Scoring goals at international level is difficult. It's hard for that equation to be made."
Ireland have a busy June on the horizon, playing Mexico and Uruguay in back-to-back friendlies before the crucial World Cup qualification Group D showdown against Austria at the Aviva Stadium.
They sit second behind Serbia in their group only on goal difference.