Swansea boss Paul Clement accused Manchester United's Marcus Rashford of having "deceived" referee Neil Swarbrick to win a penalty in the 1-1 draw between the sides at Old Trafford.
Swarbrick awarded the spot-kick, which was converted by Wayne Rooney to put United ahead, after Rashford went down in the box in first-half stoppage time as keeper Lukasz Fabianski dived at his feet.
Replays indicated Rashford was already on his way to the ground before there was any contact between him and Fabianski.
"Replays show the player deceived the referee - there is no other way to look at it," said Clement, who saw his side earn a draw thanks to a brilliant Gylfi Sigurdsson free-kick.
"You could say he has dangled a leg to get the contact, but he is (going) down before that, before there is any kind of contact."
He added: "Lukasz was furious. He said he had gone down to get his hands on the ball, could see he couldn't get it so came away from it, and that he (Rashford) had gone down before the contact."
Clement said Swarbrick, who delayed briefly before pointing to the spot, had told him he had been "sure what he had seen" - something the Swans boss believed was not the case.
"At the time, I looked at the reaction of my players first of all, and they were furious about it, so that puts a doubt in your mind as to whether it was the correct decision.
"Also, the delay between the contact and the decision being given - there was a brief pause which normally would say there is doubt," Clement said.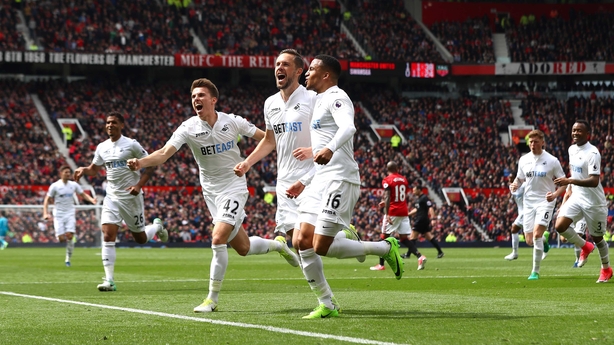 "The referee said to me after the game he was sure what he had seen and was just confirming with the assistant. I don't know why he even asked him, because he is almost as far away as I was.
Clement feels officials should be assisted by video technology when making decisions over such incidents.
"For me it is unbelievable that in this day and age, with the technology we have available, that the only people that don't get the help are the ones who most need it," he said.
"We can see it, you can see it, the fans can see it, everybody can see it - apart from the officials. It has to be done. It is long overdue."
Having claimed a deserved point, Swansea remain 18th in the Premier League table, two points adrift of 17th-placed Hull with both sides having three games left.
United are in the midst of an injury-crisis within a fixture backlog and this draw means their hopes of finishing in the top four are no longer in their own hands.