While expecting an "interesting" conclusion to this season's Premier League, Eamon Dunphy is backing Antonio Conte to steer his Chelsea side to the title.
Tottenham's win over Bornemouth, coupled with Chlesea's loss at Manchester United, now sees four points separate these London rivals at the top of the table.
Reflecting on the game at Old Trafford, Dunphy felt that the league leaders were second best throughout.
"I thought Chelsea would win when United didn't start Ibrahimovic but Rashford was outstanding and  Herrara did a great man-marking job on Hazard.
"I thought for 90 minutes it was the most inspiring performance by United since Ferguson left.
"You could say Chelsea were missing Thibaut Courtois and Marcos Alonso, so they had to rearrange their side, but that's no excuse.
"Everyone thought that the league was a done deal on the assumption that they would not lose yesterday.
"The momentum is now with Tottenham. They are playing well, they have plenty of power and pace in their team. They have Harry Kane and Dele Alli scoring goals and have the best defence in Europe.  
"It's going to be an interesting finish but I still think Chelsea will do it."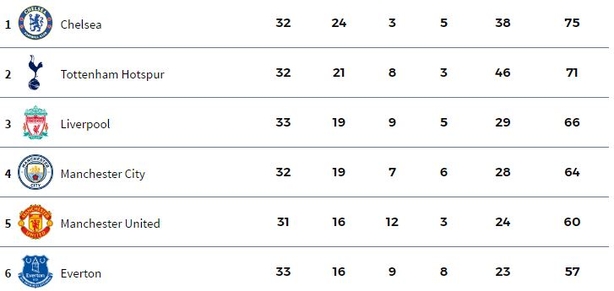 Dunphy's faith in the Stamford Bridge club is based on his belief that their fifth loss of the campaign and the performance they put in may be a "one-off".
Crucially, he also feels that boss Conte can refocus his charges, particularly Diego Costa, in the remaining games.
"What's coming up is a big test for the manager - the biggest test for Conte since they lost at home to Liverpool and Arsenal gave them a hiding earlier in the season.
"They have two games coming that on paper are tricky – home to Southampton and away to Everton. If they can win them they should be fine.
"However, he reset the team. He needs Courtois back in goals, but I fancy Conte to get the job done and get his players minds back on the job."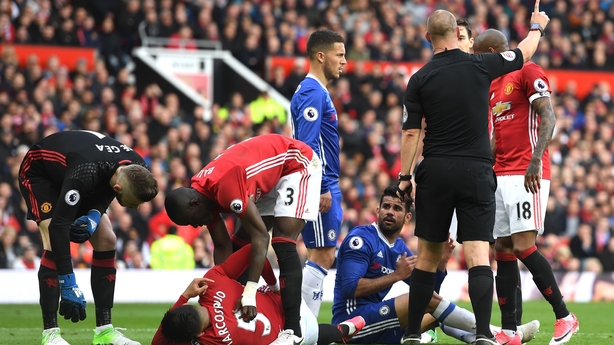 It's a task not made any easier when the RTÉ pundit references the current attitude of Costa.
He's not playing, he's getting involved in physical altercations, throwing himself on the ground and kicking people," added Dunphy.
"He's doing everything except what he should be doing. He's obviously been tapped to go, possibly to China. He said he's unhappy in London.
"He really has downed tools. He is their main weapon up front. If he's not doing his stuff, then it's very, very difficult for Chelsea to get the goals they need and to impose themselves on the game.
"Conte has got a few days to Costa's head right and if he doesn't, well it could be game on, but If I was having a bet I'll stick with Chelsea."