Michael Carrick knows first hand what a buzz football can bring to the north east, but Manchester United will be out to heap more misery on Sunderland fans at the Stadium of Light this afternoon (1.30pm).
The 35-year-old was born in Wallsend before starting his career at West Ham.
Sunderland are rooted to the bottom of the Premier League and north-east neighbours Middlesbrough are also battling to stay up, while Newcastle look set to secure a swift return to the top flight.
Carrick said in an interview with MUTV: "It is such a football-orientated place that if a team, for example Newcastle, are doing well then the whole place is buzzing and when they're not, there is that down feeling around the place. It really does dictate the feeling in the north east.
"The passion for football is what stands out, it's incredible up there.
"Personally, I would like to see the teams back up again and the place bouncing again and there's a really positive atmosphere because it's a great place when the teams are doing well."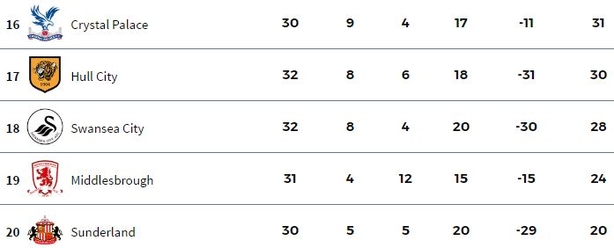 Carrick added: "It is important, particularly for the vibe of the area. It's such a football-orientated region that it's so important to have a team in the Premier League and a team doing well.
"As it is at the minute, Sunderland and Middlesbrough are finding it tough in the Premier League and Newcastle aren't quite in there yet.
"It's been a bit of an up and down time for the three teams over the last few years and it's not been often that all three have been in the Premier League at the same time."
It's matchday! #HawayTheLads
⚽ #SAFC v @ManUtd
📍 @StadiumOfLight
🕒 1.30pm
🎤 @Tweed_Barnesy + @benno_4
📝 https://t.co/d6fepW5n9x pic.twitter.com/oJhPNUXKwB

— Sunderland AFC (@SunderlandAFC) April 9, 2017
United are battling for points at the other end of the table as they aim to secure a top-four finish.
There is no love lost between the rival sets of fans, with some sections of the Sunderland support having taken great delight in United missing out on the title on the final day of the 2011/2012 campaign.
Carrick, though, believes there will be no sense of looking to settle any old scores.
"In some ways it can (spur players on) but, at the same time, it's a totally different game.
"It's two different teams, two different managers and a different situation completely.
"Maybe the first time we went back after it, there was a little bit of feeling there, remembering what had happened but, at the same time, that's just football.
"You have to get on with it and certainly going there [today], I won't have any feelings of that."