Everton manager Ronald Koeman has hit out at Republic of Ireland manager Martin O'Neill over James MacCarthy's latest hamstring injury, claiming the decision to initially name the midfielder to start against Wales was against medical advice.
McCarthy was replaced by David Meyler in the starting line-up for the 0-0 World Cup qualifying draw at the Aviva Stadium after aggravating a hamstring.
McCarthy had missed Everton's two previous games and will now be absent for this weekend's Merseyside derby.
"It was a final decision against the (advice of the) medical staff of Ireland and also against the medical staff of Everton," he told the Irish Daily Mirror.
"And there are two people responsible for that.
"One is the player by himself. Finally, if he says, 'Yes. I'm fit', okay, but even the player needs protection from the manager and, once again, they didn't give that protection to the player."
Koeman compared the decision to select McCarthy with Belgium boss Roberto Martinez resting Romelu Lukaku for most of the country's friendly with Russia after playing a qualifier against Greece.
"I was pleased by Martinez that, one, Kevin Mirallas was starting (in the friendly in Russia) and, second, that Romelu was not starting," he said.
"That's good for us, because he played for 95 minutes in the qualification game against Greece.
"You like people to understand... not like Ireland."
The comments are the latest chapter in what is a fractious relationship between Koeman and the Irish management team.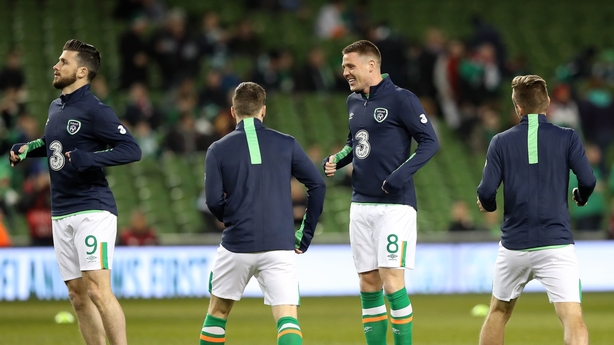 Speaking before Koeman made his comments yesterday, O'Neill defended the decision to select McCarthy, insisting that the 26-year-old was declared fit and saying that a recurring hamstring problem was something that the club should be dealing with.
"James wanted to play and he was fit to play," said O'Neill.
"Let's put a couple of things to bed. He didn't train the first day, which was nearly understandable. He trained the last couple of days, but he over-stretched in the warm up, felt something, and I didn't want to take the risk. We were guided by James.
"If you look, he wasn't been with us now for a long, long time. What he does at club level is something that's outside our jurisdiction and outside our control.
"I think that's something he would have to look at, if it is a hamstring problem that he's continually having, that's got to be addressed by him and his club more than anything else. We're trying to pick up the bits of this here, but it's not a fight."
It was reported last week that O'Neill had tried and failed to make contact with Koeman but the Derry man said he would try to speak with the Everton manager again.
O'Neill replied: "I'll give him a shout. Seamus Coleman's injury was the most important thing of the weekend. If he doesn't want to talk, that's fine, no problem.
"The protocol is medical staff to medical staff phoning each other. I was a club manager and I never once received a call from an international manager about one of my players.
"Even though I picked up injuries, I accepted that as a fact, you curse your luck, but I never once picked up a call. But Everton have lost a really important player in Seamus."