Martin O'Neill admitted that Seamus Coleman is still coming to terms with the broken leg that he endured in Friday's World Cup qualifier with Wales.
However, the manager believes that his captain will remain positive and take inspiration from other great players who have endured similar injuries.
The Everton defender suffered a double break in his lower leg following a horror challenge from Neil Taylor in the 0-0 draw with Wales, and remains in hospital following a successful surgery at the weekend.
"I think he's just beginning to come to terms with it," said O'Neill at this afternoon's press conference.
"I saw him yesterday and he's still pretty down about it. He's not in as much pain, the operation went very well and it's just a matter of coming to terms with it.
"There will be a few players who will probably see international football for the first time"
"Medically speaking, it's very difficult. We'll have to see how everything goes over the first few weeks. I don't think anyone has put a timeline on it yet."
The manager believes that Coleman is a very positive person and will be able to use that mental strength, combined with an excellent support network, to get right back on the road to recovery.
"I think he's very positive and he will get into recovery mode as quickly as possible and then it's up to him.
"Before I went to Celtic, Henrik Larsson had a very serious injury and he recovered magnificently and the injury didn't bother him again until the end of his career.
"So great players have broken their legs and recovered so Seamus should take [inspiration].
"He's down, as he would be, with the realisation that he is going to be out of action for quite some time.
"So those type of things don't just take five minutes to get over, but he is very strong and has a lot of good people around him and his family are very strong as well and he is positive that he'll be back and be as good as ever."
Looking ahead to the Iceland game tomorrow night, the manager confirmed that Robbie Brady would captain the side in Coleman's absence and also suggested that there would be some new caps handed out – but only to those deserving of an international cap.
Martin O'Neill: Robbie (Brady) will play tomorrow and he will be the captain of the team for the game. #COYBIG pic.twitter.com/q1sLXUZfm1

— FAIreland (@FAIreland) March 27, 2017
"Robbie will play and he will be the captain of the team but I haven't given it any thought on this moment.
"After tomorrow evening, there's a long time until the next game so I will give it some thought then.
"There will be some players who play for the first time so it's a balancing act between getting some players some international experience and actually deserving of the cap, that's a call I have to make."
"Very much so," said O'Neill when asked were the uncapped players in contention to play
"There will be a few players who will probably see international football for the first time."
And that means that Daryl Horgan, Andy Boyle, John Egan and ConorHourihane will be on high alert knowing that they could be in line to wear the green jersey for the first time at this level.
"You don't want to give out caps just because they are there, you want them to earn it, but [of course] for experience you would want that.
"Some players who have just come into the squad, like the two lads at Preston, have acquitted themselves very well in training and they are basically just starting out in their international career.
"Some players who have been around the squad but haven't played regularly may well play as well.
"I think whatever length of time they have on the pitch tomorrow evening, I think it's a chance to try and impress and that is what they will try to do."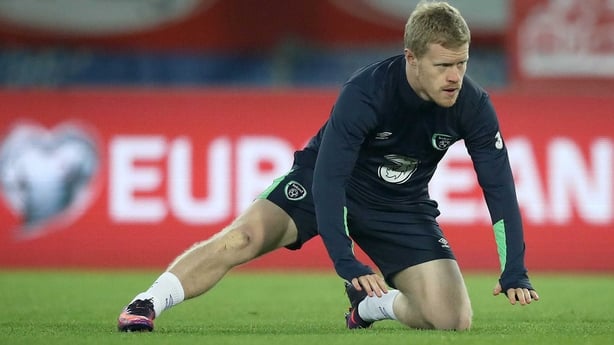 The team will certainly have a much-changed appearance for the visit of the Euro 2016 quarter-finalists with several senior players returning to their clubs following the Wales clash, while O'Neill also suggested that many of the starting XI will be rested out of respect to their club sides.
James McCarthy had to pull out of the game on Friday night just before kick-off due to injury, so the midfielder returned to Everton to continue his rehabilitation, while John O'Shea, Glenn Whelan and Jonathan Walters have also gone back to their clubs.
"There are a couple of lads who have gone home, John O'Shea being one gone back to his club, Jonathan Walters and Glenn Whelan so they wont play.
"So in all honesty and in fairness to clubs some of the lads who played on Friday night who are still with us certainly won't start in the game and might not participate at all."
Watch highlights of Republic of Ireland v Iceland on RTÉ2 from 10.30pm. Listen to live commentary on RTÉ 2fm from 7pm.