It remains to be seen whether victory over Austria in November proves crucial to Ireland's World Cup qualification campaign, but the 1-0 win at the Ernst Happel Stadion certainly helped manager Martin O'Neill through the long dark winter.
Over four months has passed since that famous night in Vienna, where James McClean's strike handed Ireland three valuable away points, and manager O'Neill admitted that the long wait for the next match was certainly helped by finishing 2016 on a high.
Not only did Ireland end the calendar year with the victory but they also cemented top spot in Group D with three wins and a draw proving a very favourable return from their opening four matches of the campaign, as World Cup qualifying rivals Serbia, Wales and Austria sit two, four and six points adrift respectively.
O'Neill compared this winter period with the equivalent from the Euro 2016 qualifying campaign, when his side finished the year off in Glasgow and suffered a 1-0 defeat to Gordon Strachan's Scotland at Celtic Park.
"It is frustrating if, like a couple of years ago when we played Scotland and we got beaten at Celtic Park, then the Christmas period is a long, long time to wait," said O'Neill at Monday's press conference.
"Last year it wasn't so bad because we had qualified [for the Euros] beating Bosnia so Christmas was good, and this year it hasn't been so bad.
"So from a managerial viewpoint, it is a fairly lengthy time from November right through to March and I am glad it is coming around now."
Indeed, Ireland's first Group D meeting with Wales is less than two weeks away, with the Celtic cousins meeting at the Aviva Stadium on Friday, 24 March, and while it has been a long time coming since the last international fixtures, the Ireland manager believes that the players will not have had much time to think about the World Cup qualifiers due to their hectic club commitments.
"From a player viewpoint, results at international level are parked to the side," explained O'Neill. "They have club games to concern themselves about every single week.
"Their minds are very much at club level at the moment because it is their living; it's their bread and butter.
"But when we gather them in on Sunday, that can change."
Collective Effort Key to Continued Success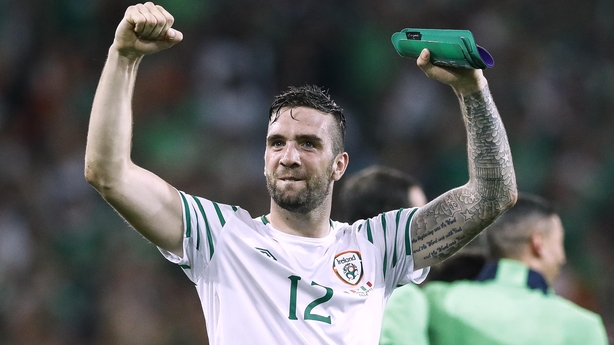 The Ireland manager named a 39-man squad for the upcoming Wales game and while O'Neill traditionally reduces the squad ahead of the get-together, there is a real chance that several of the players named today will not be available for the vital World Cup qualifier.
Much has already been made of James McCarthy's latest injury, which could see the Everton midfielder miss out next week, while the manager will certainly have to plan without injured centre-half Shane Duffy and the suspended Robbie Brady.
Richard Keogh has been absent from Derby's last four fixtures due to a calf strain, Ciaran Clark had to go off injured at the weekend, while Cyrus Christie and Paul McShane have also picked up knocks in recent weeks.
"Robbie Brady will be a big loss. Shane Duffy is a big blow to us. He has been playing really well for his club and has been doing great for us," admitted O'Neill.
However, the manager believes that the collective team effort is vital to this Ireland success and draws comfort and confidence from the fact that some of Ireland best results have arrived from starting XIs that were missing vital players.
"We have played loads of games without big players over the years. We have had to do without players at different stages.
"You curse your luck for about five minutes and then you get on with it. We have players that we are able to slot in and we will be ready to compete again against Wales.
"That has always been the case. If you look at the qualification games in the Euros, we have missed big players at different stages, or you look at the four games that we have played [in this campaign] and you would have thought going into games without Brady and Hendrick that you would be a lesser team.
"But players have risen to the occasion and when we have got the points on the board with a real collective effort."
McClean or McGeady (or Both)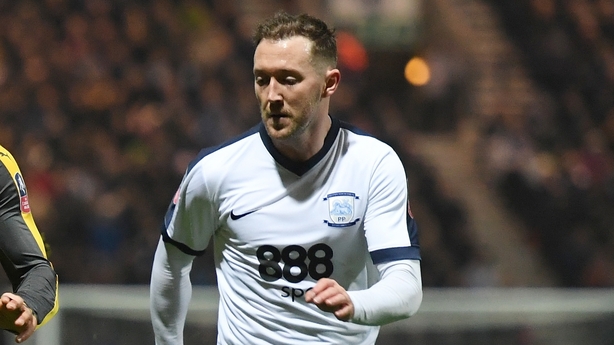 One of the most telling factors of the long break from international football has been the renaissance of Aiden McGeady at club level, now playing regularly with Preston North End.
The oft-criticised Ireland winger is thriving in a free role at his club, pushing for a play-off place in the league, with the former Celtic man recently being named Championship Player of the Month for February.
In stark contrast, fellow winger James McClean is going through a bit of a lull at club level and has been struggling to maintain a regular starting role for West Brom in recent weeks.
And while both players could be competing for the wide left berth in the team, O'Neill anticipates no selection dilemma as both players can play in several positions within the team. McGeady is often deployed on the right flank, while McClean has been utilised in an attacking role on occasion.
"There are a number of players in the 23 who I would have genuine concerns about form at club level about but James is not one of those people," O'Neill added.
"He has been terrific for us, he keeps himself very fit and is probably the fittest in the squad. And in terms of confidence, I don't think that not playing for a couple of weeks would affect him when he is playing for us."
And the manager believes that McGeady's loan move to Preston has now started to reap dividends, playing competitively in the Championship rather than fading into obscurity with the Everton reserves.
"McGeady is obviously a confidence player and he looks a lot fitter now as well, which I think comes from the games that he has been playing," said the Ireland boss.
"And that is encouraging as it is better playing for a cause every week [for Preston] where the results have been pretty good, than playing for the Everton Under-21 side as an overage player.
"So with James, who has been fantastic for us in this campaign, and with Aiden feeling much fitter, they are not bad options to have."
Jeff Hendrick Proving Premier League Player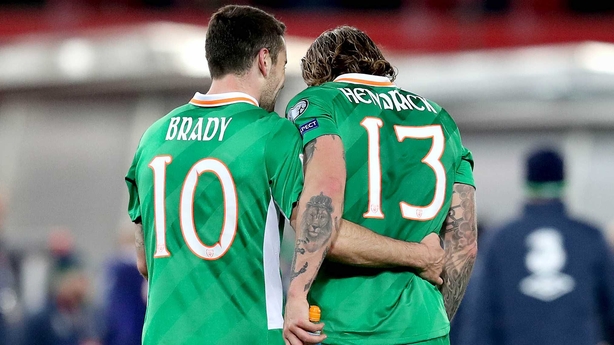 Ireland midfielder Jeff Hendrick has gone from playing Championship football at Derby to competing and impressing in the Premier League with Burnley since the last international outing.
The Ireland manger believes that the move will help the Dubliner take on more responsibility in the green jersey, especially for the Wales encounter, where club-mate Brady is suspended for the game.
"I think that playing at the level he is at now and playing against top quality players can only be good for him and with Brady out for this particular game, then obviously, the burden of responsibility will pass to people like him," said O'Neill.
"But he has proven to us at the Euros that he is capable of doing it so I just hope that he arrives next Sunday in one piece and he is fit because he is important to us."