Chelsea captain Gary Cahill paid tribute to man of the match N'Golo Kante after the midfielder's goal proved decisive in the 1-0 FA Cup quarter-final win over 10-man Manchester United.
Kante struck after 51 minutes but United were already a man down by that point as Ander Herrera was dismissed just after half an hour into the game for a second yellow card.
Cahill said of Kante: "He's been fantastic. You see what he did last season (for Leicester).
"He has come here and he has kicked on again. He's such a humble guy off the pitch, works hard. He's a tremendous addition to the squad and he's won us the game with a goal today, which is great."
Cahill thought his team showed the right attitude following Herrera's dismissal.
"We dug in and gave a good account of ourselves," said Cahill.
"I thought it was a professional performance from us today, we controlled the game when we needed to.
"It (the sending off) was early. It was a tough game for us today but obviously that turned it in our favour slightly after that.
"There were a few fouls leading up to that (the red card). There were many fouls, no dangerous ones, but lots of niggly ones."
Kante added: "It was difficult, Manchester United is a good team. It was a tough game. We are happy for the win."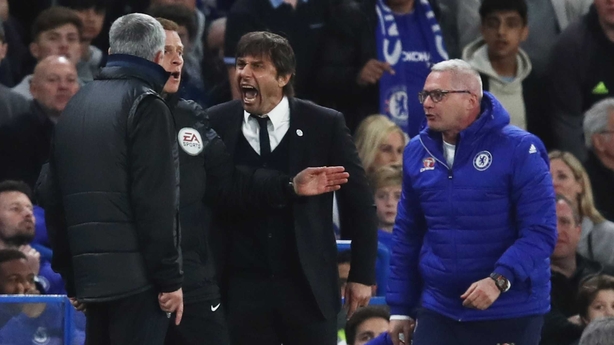 Manchester United manager Jose Mourinho at first said he did not want to comment on the red card when asked about Herrera's dismissal.
"I don't speak. I just want to say that I'm really proud of my players, I'm really proud of Manchester United fans," said the former Chelsea boss.
"We have a very important match on Thursday (in the Europa League) and I want to try to rest a little bit, to try to prepare the team the best we can for the Thursday match."
When pressed further on the red card, Mourinho added: "I think we all watched the match until the red card and after the red card and then we can compare the decision of the two yellow cards in this case with other ones that were not given, but I don't want to go in that direction.
"Mr Michael Oliver - a referee with fantastic potential. Manchester United were a bit unlucky. In four matches, three penalties and one red card in such an early moment of the game but again I cannot change that."
Mourinho approached Oliver after the game but did not bring up the red card. He said: "I shook his hand, I told him many congratulations. There is nothing to speak (about)."
FA CUP SEMI-FINAL DRAW
Chelsea v Tottenham
Arsenal v Manchester City
Ties to be played April 22/23