Millwall striker Steve Morison has claimed elite clubs are no longer producing "manly" players ahead of today's FA Cup quarter-final against Tottenham (2pm).
The Lions sit sixth in League One and 47 places below their Premier League opponents but they come into the tie in excellent form.
They are unbeaten in 17 matches and have conceded only one goal in 10, with Leicester, Bournemouth and Watford already falling victim to Neil Harris' side in previous rounds.
Millwall's success has made light of the gap between top teams and those in the lower divisions but Morison insists the difference, in terms of skill at least, remains considerable.
"It's massive. Teams at the top are there for a reason, they've got the best players," Morison said.
"But for me football is changing. It's going a different route. It's not as manly as it used to be.
"We're not producing players...are we producing football players? I think we're producing technically good football players but I don't think we're producing men anymore."
Morison added: "We're now going to get a taste of what it's like playing at the top, playing on a beautiful pitch against beautifully talented players - as strong as you, quicker than you.
What's the key behind our strong form at White Hart Lane this season? Mauricio gives his view as we prepare for Millwall's visit. #COYS pic.twitter.com/NPxvVPvJNk

— Tottenham Hotspur (@SpursOfficial) March 12, 2017
"So we've got to try to turn it into the kind of game we want to play in."
Morison was part of the Norwich side that beat Tottenham 2-1 at White Hart Lane in 2012 but for Millwall's younger players the trip will represent a highlight of their fledgling careers.
The 33-year-old is keen to remove any sense of awe, however, and he will certainly not be asking for shirts at the final whistle.
"We're not under any illusions of how hard it's going to be but I'm definitely not going there to collect autographs or be nice to them," Morison said.
"I'm not really an emotional person like that. I don't get excited, I'm not going to go there...and be like, 'oh wow, look who it is!'
"It's another human being in my eyes and that's how I've always been. I'm not really massively bothered.
"Even when I played in the Premier League I never took a shirt as memorabilia or anything like that.
"I'm there to play alongside you and beat you. I'm not going to ask you after 20 minutes or something if I can have your shirt."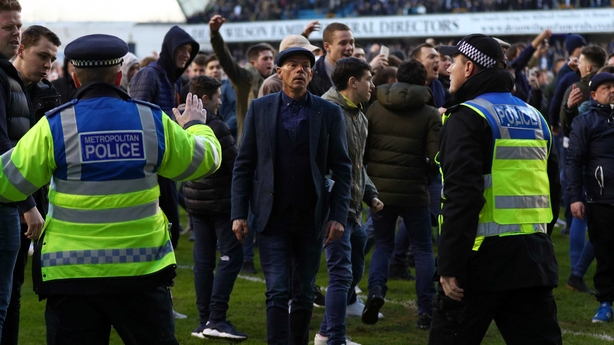 Police are on high alert for the fixture, particularly after Millwall fans upset Leicester supporters by celebrating on the pitch following their surprise win at the Den last month.
There is also a history of animosity between Spurs and Millwall after violence broke out around a friendly between the London clubs in 2001.
Morison, however, argues his side's fans are hard done by.
"As soon as you hear it's us and a London club then straight away, alarm bells ring," Morison said.
"It'd be nice on Sunday to leave and for people to report the fans were fine. It only ever gets reported when they're not nice or something wrong happens or when we unfortunately come on and celebrate us winning in the last minute of a game.
"Yet Sutton come on when they lose and it's, 'oh let them enjoy their moment. Just because of our name and reputation in the past, it shouldn't stop us enjoying ourselves."
Millwall are chasing their first ever victory at White Hart Lane, in what is set to be the last ever FA Cup fixture at the ground.
Tottenham are due to play at Wembley next season, while their new home is completed, and if they reach this year's semi-finals, the match will also be played at the national stadium.
"It's massive for them," Morison said. "They want to go out with a bang and we just want to ruin it."