Chelsea aces Eden Hazard and N'Golo Kante are targeting a Premier League and FA Cup double.
Chelsea are 10 points clear at the Premier League summit with 11 games to play and face Jose Mourinho's Manchester United in the FA Cup quarter-finals on Monday.
Kante, who won the championship with Leicester last season before moving to Stamford Bridge, told Chelsea TV: "We're going to try to win everything.
"It's not going to be easy, but we're going to train and work hard to win these two things."
Hazard added: "We are at a club where every year you have to win something. We can win both the cup and the league. We will give everything.
"We have 11 games to play in the league. We hope we can win as soon as possible the league. And the cup is a bonus, but it's a good bonus."
Both Kante and Hazard have been key to the revival of Chelsea, who finished 10th last season when Mourinho was sacked and Guus Hiddink was placed in interim charge before Antonio Conte's arrival.
Hazard believes his form is nearing the standards of two seasons ago when, under Mourinho, Chelsea won the League Cup and Premier League title.
Hazard, who struggled last season with a niggling hip injury and poor form, added: "When you see last season it's completely different. I reach almost the same level as two years ago.
"Two years ago we won the league cup, the championship. I want the same. I want to win trophies.
"I give everything to win trophies. This is the target for Chelsea."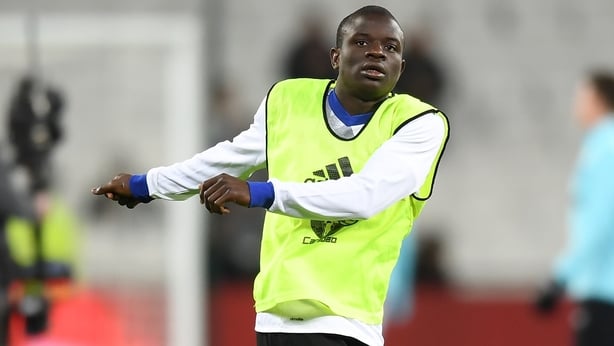 Hazard and Kante - with his first Chelsea goal - were on target in Chelsea's 4-0 Premier League win over Manchester United last October.
Hazard said: "It's my job. Doesn't matter the team we play against - Man United, Arsenal, Burnley - I try to score every game.
"If I want to be considered a big player, you need to score in big games."
Kante's job is more subtle, but equally as effective. After Monday's Premier League win at West Ham, Hazard joked it felt at times like there were two Kantes and that the France midfielder had a twin.
The understated Kante said: "Thank you for the compliment. I'm single, but we work together for a win. Me and all the team, we have to defend together. I give my best for the team."
Hazard added: "We have to work, even if he's one of the best players in his position. We have to defend, because the manager wants that.
"(But) it's true sometimes we say 'I don't defend now, because N'Golo is there'."
That allows Hazard and the more forward-thinking Chelsea players to thrive. And Hazard used a running analogy to describe the comparison between the players.
The Belgium playmaker added: "If we have to do a marathon - he will win for sure.
"He can run 10 hours. I can run 10 metres, then I'm tired."