Shelbourne Ladies are set to continue their dominance of the Continental Tyres Women's National League as it moves into summer soccer.
Ahead of the season's kick-off on Saturday March 18, the alterations have been many. Five of the seven clubs have changed their manager, with only Mark Leavy at Shelbourne and Frank Kelleher at Cork City retaining their positions.
On the field, the question seems when double-winners Shelbourne Ladies will land their title rather than if. Their European campaign gets underway in August and the Dublin giants will want to be close to retaining their title by that stage.
Shelbourne's ultimate aim will be to emulate Dundalk and qualify for the women's Champions League knockout stages.
Officially, it was Shels first time to lift the title last December. The club merged with Raheny United in 2015, who twice won the league in its maiden four seasons.
While Player of the Season Noelle Murray has moved on to Glasgow City, Shels have made serious additions to their panel, senior international Roma McLaughlin and Tiegan Ruddy arriving from Peamount United.
"I think after last year you have to go in with high hopes," said Shels captain Pearl Slattery, who believes her side can win another league title with an unbeaten season.
"I think the squad is a lot better than last year. Even though we have lost a few players, the recruitment has been excellent for this season.
"We have top youngsters coming up also, so we have to take it game by game, but why not, we can win everything again."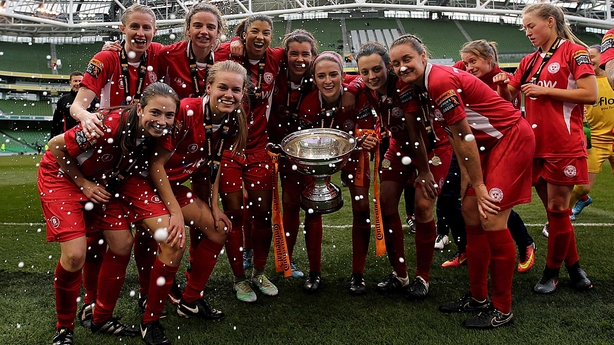 While Shelbourne are unquestionably the strongest of the seven squads, the small pool of female soccer players in Ireland has created an imbalance in the league.
Kilkenny United begin their third season in the women's national league and have yet to register a point. The Kilkenny outfit were beaten 10-0 twice last season.
With such imbalance in a small league, the idea of a player draft to attempt to rebalance the standard has been mooted and was not ruled out by FAI competitions director Fran Gavin.
"It's something you would never rule out," said Gavin, whose role includes management of both the SSE Airtricity League and the Women's National League.
"We've looked at models in different countries where they have a system in place. If there are structures that make the league more competitive then we will certainly look at it.
"As the game grows, you have to look at that all the time. Is the league aligning with the growth of the game, is the competition so one-sided that it's detrimental to the development of the players?"
"If a match is 10-0 or whatever result, it doesn't gain anything for anyone."
While lopsidedness has undoutebdly developed in the league, Gavin was quick to point out that women's football was still developing in the country.
Entities from Limerick and Sligo are both in negotiations with the FAI about becoming the league's eighth team in the 2018 season.
Though current members have started to express interest in creating an underage national league, Gavin admitted that may be some time off, and the FAI's prime aim for this season is to increase match-day gates.
Opening week fixtures
Shelbourne Ladies v Cork City WFC, March 18
Galway WFC v UCD Waves, March 18
Kilkenny United v Peamount United, March 18
Wexford Youths WFC bye week