PSG midfielder Marco Verratti said the player's were "ashamed" following their European exit at the hands of Barcelona, while manager Unai Emery said referee decisions weren't the reason they lost 6-1.
The French champions fluffed their lines in spectacular fashion and were trampled in the dust by a Catalan juggernaut as Luis Enrique's side fought back froma  4-0 first-leg deficit to win 6-1 in the Nou Camp, with the final three goals coming in the last seven minutes of a pulsating round-of-16 tie. 
Qatar-backed PSG have invested heavily in a squad designed to compete at the highest level, yet once again they were found wanting against the very best and were eliminated by Barcelona in the knockout stages for the third time in five years.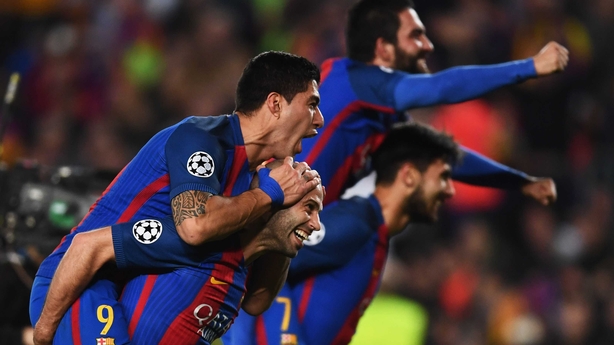 The French side paid for their passive approach as Barcelona raced to a 3-0 lead before striker Edinson Cavani netted what appeared to be a decisive away goal mid-way through the second half to leave the home side needing to score three more.
The visitors held on until the 88th minute but Barcelona simply refused to be denied and when Sergi Roberto prodded home the side's third goal in a devastating seven-minute spell, Paris St Germain were left licking their wounds once more.
"I want to apologise to the fans," Verratti said, who had been instrumental in the first leg but was a pale shadow of his brilliant self in the Nou Camp.
"We are ashamed."
Sports daily L'Equipe needed just one word to sum up the capitulation with the headline "Unspeakable".
The statistics do not make pretty reading for PSG, who completed just four passes, three of them kickoffs, from the 85th minute as midfielder Adrien Rabiot struggled to come to terms with the shocking denouement.
"Between 3-1 and 6-1, I do not know what happened," he said. "We were not supposed to sit back like this, it was not the plan."
PSG were furious that a theatrical Luis Suarez tumble was rewarded with a stoppage-time penalty that Neymar converted to put Barca within one goal of victory, but first-season coach Unai Emery said the game was lost elsewhere.
"The referee's decisions were against us but this is not why we are eliminated," the three-times Europa League-winning coach with Sevilla admitted.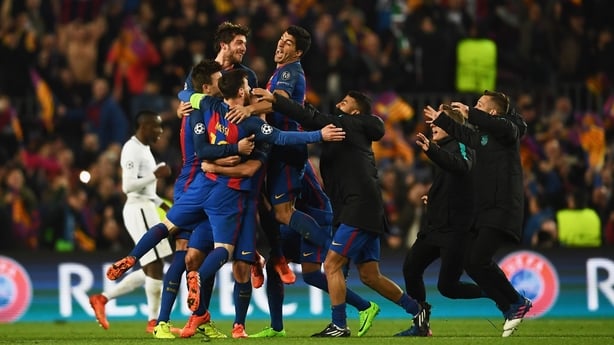 Fullback Thomas Meunier bemoaned the sides lack of professionalism, while the club's hierarchy said PSG needed to reluctantly accept the result
"It is a nightmare. I don't believe this happened but we are not going to look for excuses," club president Nasser al Khelaifi lamented.
PSG now face a tricky end to the season to salvage some pride and appease their supporters.
In recent years they were almost guaranteed a Ligue 1 title to soothe the disappointment of regular early Champions League exits but this time they trail an impressive Monaco side by three points.
"I hope this setback will not weigh on us mentally," winger Hatem Ben Arfa said.