Ireland hopeful Kieran O'Hara was named in Manchester United's squad for the away trip to Rostov for Thursday's Europa League last-16 clash.
The Manchester-born goalkeeper has declared for Ireland, qualifying through his Irish grandparents, and was selected in the 20-man squad that flew out to Russia this afternoon.
O'Hara has yet to play a senior game for United and the 20-year-old will, no doubt, be behind Sergio Romero and David de Gea in the pecking order for Thursday's encounter but the selection is certainly a nod of approval from Red Devils manager Jose Mourinho.
The 6ft 3in shot-stopper was previously called into the Ireland Under-21 squad last September after impressing while on loan at Morecombe.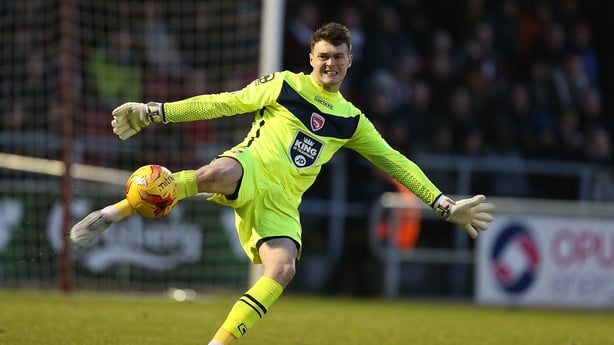 "I always thought about the possibility of declaring for Ireland and my Dad was always keen for me to do so," said O'Hara, talking to the FAI last September after his call-up.
"We'd have a bit of banter about the England or Ireland thing but it was always something I knew was possible and to get the call from Noel [King] was an honour.
"I spoke to Noel and he knew I had relatives from Galway and was eligible to play. I was delighted. I then get my Irish citizenship and the passport and I'm delighted it has all come through.
"My grandparents on my father's side were both from Galway. My Dad was very pleased. His side of the family are really proud and so is my Mum, of course.
"We've still got relatives in Ireland. My Dad's aunt is still living in Galway and we'd always go to visit her when I was younger. She lives on a farm. I'd always have a Galway GAA shirt as well when I was a kid."
And O'Hara believes that he is now learning from the best in the business as he gets to train alongside David De Gea on a daily basis.
"In my opinion David De Gea is one of if not the best goalkeepers in the world right now so to get to see him every day and to get the privilege to train with him sometimes and learn from him can only improve me as a goalkeeper."