Ex-Manchester United defender Denis Irwin insists Jose Mourinho will have to make a selection gamble if he is to win his own treble at Old Trafford.
Eighteen years on from the team that Alex Ferguson led to Premier League, Champions League and FA Cup success, Mourinho's men are pursuing three competition victories themselves.
Part one of the trilogy has already been achieved after last month's EFL Cup triumph and United now face a Europa League double header against Russian club FC Rostov sandwiched either side of next Monday's FA Cup clash at Chelsea.
With a minimum 15 fixtures remaining on the schedule, Irwin admits Mourinho - whose side are also striving for a top-four finish in the league - will have to juggle his squad around if he is to emulate Ferguson's feat in 1999.
You have to take a risk somewhere along the line
The treble winner recalled the famous FA Cup semi-final replay with Arsenal when Ferguson left Dwight Yorke, Paul Scholes and Ryan Giggs on the bench, before the latter came on to score his memorable extra-time winner.
"You'd love to play every game but I think that's almost impossible, particularly for the front players who need to be at their sharpest," Irwin said.
"That's down to the manager, when he wants to freshen it up. Certainly in '99, Sir Alex freshened it up quite a bit. I remember a semi-final replay against Arsenal where he rested quite a few. You have to take a risk somewhere along the line but that's down to the manager.
"We've got a fine squad, there is an international break in there as well. We'll have to see what happens. Once you get on that (momentum) it's a very strong leverage to have."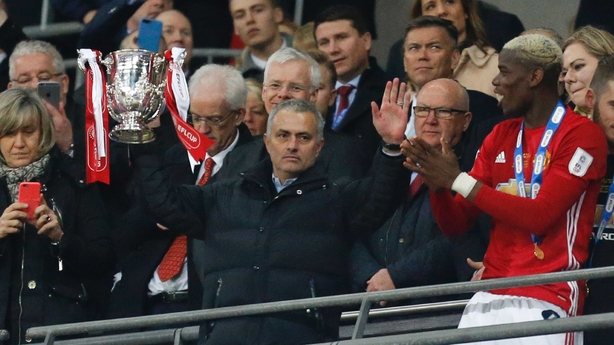 Momentum was behind the class of 1999 when they strung together a 33-match unbeaten run at the end of the previous century.
Mourinho's team have lost just once in their past 27 encounters - and that semi-final second leg defeat at Hull did not prevent them from progressing in the EFL Cup - so Irwin can see similarities between this streak and the one his team embarked on.
"It is like that - there's a lot of games to come," the Corkman added.
"At the back end of the season there's going to be an awful lot of games. You feel in the last three or four months that momentum has been building and we've developed into a team that's very hard to beat.
"We just kept playing and got on a run and I never thought it would end up like it would. I didn't think that at any point it was manageable because of the amount of games we had. It can happen like that, you take each game as it comes and see how it works out."