'Why can't that be me?' is the question that all League of Ireland players should be asking themselves at the start of the new season, according to Roy Keane.
Speaking at the launch of the 2017 SSE Airtricity League at the Aviva Stadium this afternoon, the Ireland assistant manager was, of course, referencing the recently departed – to Preston North End – Dundalk duo of Daryl Horgan and Andy Boyle, who were both called into the squad for the World Cup qualifier against Austria in November.
And if ever a League of Ireland player needed an injection of inspiration following the long winter wait for the return of football, the former Manchester United legend and Cobh Rambler was pretty clear about his message to all players; himself and Martin O'Neill were watching.
"First and foremost, Martin and myself like to go to watch matches. It's certainly not a PR exercise, we go because we like to watch League of Ireland players.
"We enjoy looking at players we think might, and will, get the opportunity to come into the senior squad," said Keane, who spoke with real knowledge and enthusiasm about the current health of the national league.
"Your eyes don't lie to you, if you're watching a good player, you're watching a good player, no matter what level he is playing at"
"I think the profile of the league has certainly been helped by Dundalk and Cork City, particularly Dundalk having great success in Europe.
"All of a sudden, you have got League of Ireland players competing against some really good teams in Europe.
"Your eyes don't lie to you, if you're watching a good player, you're watching a good player, no matter what level he is playing at.
"We have been impressed with lots of players, and a couple of lads have managed to get involved in the senior squad, and we'd like to think that will continue over the next year or two.
"If you're a player playing League of Ireland and you see what has happened to the couple of lads who got involved, the first thing you should ask yourself is 'why can't that be me?'."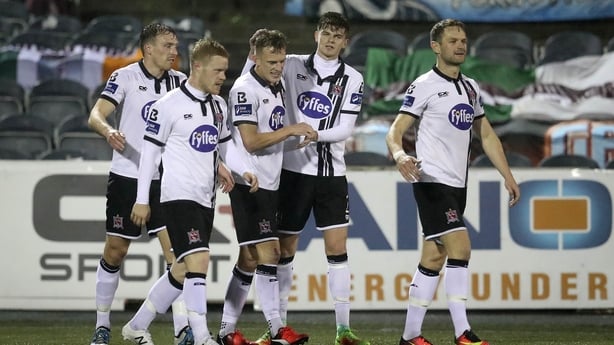 Keane was also quick to praise how fit the players appeared in the League of Ireland, and assumed that they were not sinking four or five pints after a game, which he explained was the norm back in his day.
The Ireland assistant also believes the players are also technically better and stronger, which was evident over the past season as Dundalk secured their third title in a row, while qualifying for the group stages of the Europa League.
"The first thing we would do after a game would be have four or five pints, and I'd like to think the players aren't doing that – maybe I'm wrong," said Keane while reminiscing about his own League of Ireland experience playing for Cobh Ramblers.
"Compared to 20 years ago, the players are a lot fitter and a lot stronger"
"But the players are certainly a lot fitter, technically better and we've seen that closely having worked with a couple of lads from Dundalk who managed to get a move over to England.
"So the biggest thing that I have noticed, while not comparing to 20 years ago, is that the players are a lot fitter and a lot stronger.
"They have better preparation, better recovery, and I'd like to think, travel arrangements, the whole kit, the training ground. I'd like to think all that has improved, but if it hasn't, we're in trouble.
"But from the outside looking in, I just think that the fitness levels of the players looks outstanding, but it has to be particularly now that you see some of the teams competing in Europe."
And while Keane explained that his own and manager O'Neill's perspective on the League of Ireland is, by necessity, a selfish one, as they are just looking for players who might be good enough to the senior squad.
The former Sunderland and Ipswich manager took time to praise what Dundalk have achieved, while playing football the right way.
"[Dundalk play a] great style of football and I think that helps," said Keane.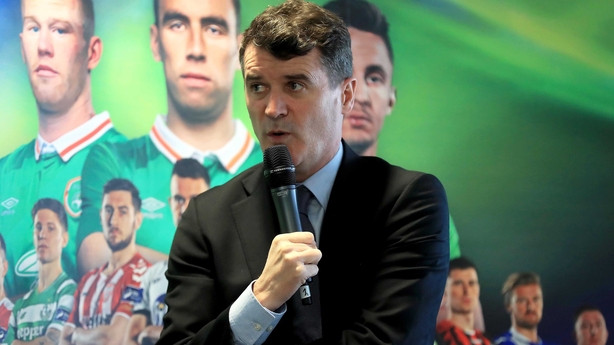 "From our point of view, and a selfish point of view, we're not getting excited about Dundalk winning every week, we're looking at players, and I think it is a bonus, of course, when they are playing a good style of football.
"Dundalk have all the plaudits because they play a good brand of football, not just last year, but they have been doing it for the last couple of years, good attacking football with lots of possession.
"And they are getting the rewards by playing attractive football, which is easier said than done."
The League of Ireland structure is also adding another level this year with the launch of the national under-15 league to go alongside the under-17 and under-19 equivalents.
And Keane believes that these countrywide competitions can only be good for young players coming through, which will eventually benefit the Ireland team, as the League of Ireland has done in recent years with so many players coming through to the senior squad.
Dundalk captain Stephen O'Donnell says league is the priority & players have the incentive of pushing for elusive four in a row. #RTEsoccer pic.twitter.com/F3xmhaarLS

— RTÉ Soccer (@RTEsoccer) February 14, 2017
"From a coaching point of view, we are desperate for the young lads to come through. And if they are playing against good players up and down the country, then that can only be good.
"And when you look at the players that came through to the senior team through the League of Ireland, at some stage they would have had to play under-15, under-16 football so in that sense, it's fantastic.
"And this idea of playing in a national league against teams up and down the country, and if you are a decent player and want that competition, it can only be good for you."