Barcelona president Josep Maria Bartomeu sought to clarify the club's position on Lionel Messi's future on Saturday following a week of institutional upheaval by declaring that renewing the Argentine maestro's contract was "indispensable".

"We want Leo to stay here, we want him to renew with us and he's very important for the club and for Barca.
"We're working hard on it and when two people want the same thing there's always a happy ending," Bartomeu told Catalan network TV3.

Messi scored for the seventh game in a row as the champions thrashed Las Palmas 5-0 in La Liga on Saturday, barely 24 hours after the club demoted director Pere Gratacos for saying Messi would not be the player he is without his Barcelona team-mates.

Earlier in the week, the club's CEO Oscar Grau had also generated intrigue about Messi's future by declaring Barca needed to use "common sense" when discussing a new contract for their all-time top scorer, whose current deal runs out in 2018.

"I want to ease everyone's nerves," added Bartomeu.
"We've been having conversations (with Messi) and it's only a matter of time. When there's any news we'll announce it, but we always conduct these matters with discretion.
"I want to ease everyone's nerves"
"I can't explain the details but we're speaking with his people. He's the best player in the world, we want him to stay here and so does he. He's very happy at Barcelona. It's an indispensable matter for us."

Bartomeu also explained that Gratacos had been removed from his role as Director of Institutional Relations but remained at the club, and said Grau's comments had been misinterpreted.

"His words were taken out of context but we're used to that. Common sense says we have to renew Messi's (deal). He is the best player in the history of football, a leader and the best in the world. His importance cannot be questioned," he added.

Messi's strike partner and close friend Luis Suarez said there was no problem with the five-time World Player of the Year.

"The media always make things into a soap opera and everything gets misinterpreted," noted the Uruguayan, who is the joint top scorer in La Liga along with Messi.

"He wants to stay and the club knows what it has to do."
Luis Suarez scored a brace and Messi was also on target on Saturday with a ruthless second-half display at the Nou Camp to provisionally go second and cut the gap with leaders Real Madrid to two points.

Uruguay international Suarez scored his 101st goal for Barcelona by stroking in Andre Gomes' cutback in the 15th minute as the Portuguese midfielder recorded his first assist for the club since his 35-million-euro move from Valencia last summer.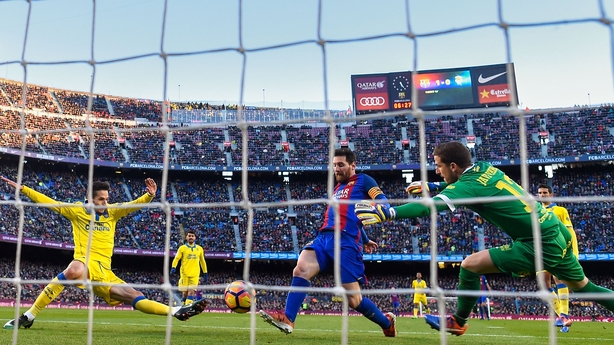 Messi scored by mopping up a loose ball on the rebound in the 52nd minute after Rafinha's shot was only parried by goalkeeper Javi Varas, while Suarez curled in a pass from Rafinha to get his second and Barca's third in the 57th.

Suarez spurned the chance to seal a hat-trick a minute later but Arda Turan mopped up after Varas had saved to score the fourth, while out-of-favour right back Aleix Vidal netted his first goal for the club in the 80th minute.

Barcelona are second in the standings, two points behind Real Madrid, who have played two games fewer and face third placed Sevilla on Sunday. Atletico Madrid are fourth on 34 points after beating Real Betis 1-0.