Pat Fenlon will be hoping to bring back the glory days at Waterford but the newly appointed Director of Football has admitted that there is a lot of work to be done to ensure that the club remains sustainable in the upcoming seasons.
The six-time League of Ireland champions, who will revert back to their original name of Waterford FC in 2017, having played as Waterford United since 1982, confirmed the former Shelbourne manager's appointed at the RSC on Monday night with former player Alan Reynolds confirmed as first team manager ahead of the 2017 SSE Airtricity League season.
And while the Blues will, once again, ply their trade in the second tier of Irish football for the upcoming season, Fenlon believes that the long-term future of the football club will be bright once the correct structures are put in place in an ever-changing League of Ireland environment.
"Ours is a long-term project...we have got to try to build a club that is sustainable and can keep it going over a long period of time." - Pat Fenlon
"There is a lot going on in the League of Ireland with new leagues at Under-15, Under-17 and Under-19s," said Fenlon, speaking on Tuesday's Drivetime on RTE Radio 1. "And basically, my role is to put a structure in place for the club and to make sure that it is sustainable going forward.
"Waterford is potentially a massive club and in years gone by they had some great teams and a very good fan base.
"I was attracted by the overall package and it is a different role completely for me coming in as a director of football."
And while Fenlon will be attempting to mould Waterford into a modern, progressive football club, former Blues midfielder Reynolds will be handed the tricky task of reviving fortunes on the pitch.
The club, which remarkably won their six league titles in an eight-year period from 1966 to 1973, have been languishing in recent seasons in the First Division.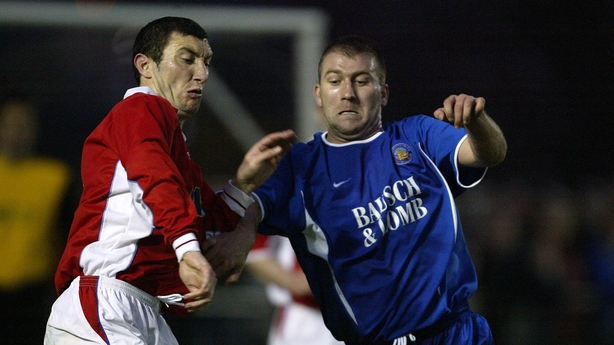 And while Fenlon will leave coaching duties to Reynolds and his staff, the former Hibernian manager will provide as much support as possible throughout the upcoming season.
"I'll be there to make sure we give as much support as we can to Alan and the rest of the coaching staff as I have a lot of experience in the League of Ireland.
"I had Alan as a player at Shelbourne and he has also being a great servant to Waterford being a dyed in the wool Waterford man, who wants the club to be successful.
"But he has also done his coaching badges and wants to improve himself. That's hopefully where I can come in; I have plenty of experience here and in Scotland and we'll just let him get on with coaching the team and getting results on the park."
With only one team getting promoted to the Premier Division in 2017, due to the format returning to a ten-team top tier in 2018, Fenlon knows that it will be a difficult task to challenge for top honours this season.
However, the former Linfield midfielder is more focused on the long-term health of the club, while knowing that the potential is there in the city to bring back some credibility to football in Waterford.
"The RSC is a great stadium and it's developing all the time and we are also going to be using the training facilities at Waterford IT.
"So the set-up is first class and obviously that was one of the things that I looked at before I went into the job and the facilities are probably as good as any club in the League of Ireland.
"It is a difficult task (returning to the Premier Division). But ours is a long-term project, not just short term and it would be great to get promoted as quickly as we can, but we have got to try to build a club that is sustainable and can keep it going over a long period of time.
"There is a lot of work to be done and without being disrespectful, the club is fairly close to the bottom of the league and struggling a little bit.
"So we need to build it now and to make sure it is sustainable going forward."