West Ham manager Slaven Bilic paid an emotional tribute to the people of Turkey after revealing his horror at the terror attack outside the stadium of his former club Besiktas.
A car bomb exploded outside Istanbul's Vodafone Arena around two hours after Besiktas' 2-1 Super Lig win over Bursaspor on Saturday, having reportedly been aimed at a bus carrying riot police, and was quickly followed by a suicide bombing in nearby Macka Park.
Interior Minister Suleyman Soylu said at a press conference that the death toll had risen to 38, with 155 more in hospital, the latest sickening blow in a country beset by terror concerns.
Bilic managed Besiktas between 2013 to 2015 and has watched developments in anguish.
Speaking after the Hammers' 2-2 draw at Liverpool, the Croat said: "I would like to dedicate these points to people in Turkey because we were there for two years, me and my staff, and they are following us big time.
They are maybe the best people I have ever met
"I feel for them, my prayers are for them, it's unbelievable what happened there. I was all around the world, working or on holiday, and they are maybe the best people I have ever met.
"So it's very sad what's happening in one of the best cities and one of the best countries...not because of the nature of the country but because of the people.
"They are so friendly, so good, so warm and everything, that it's basically tearing me apart what's happening there. Big condolences for the families of the victims."
Soylu, appearing alongside health minister Recep Akdag, is quoted in several Turkish news outlets saying: "The attack on our country's children yesterday evening resulted in the martyrdom of 38 people.
"According to the information we have received, 30 of them are police and security officers, seven are civilians and one has not yet been identified."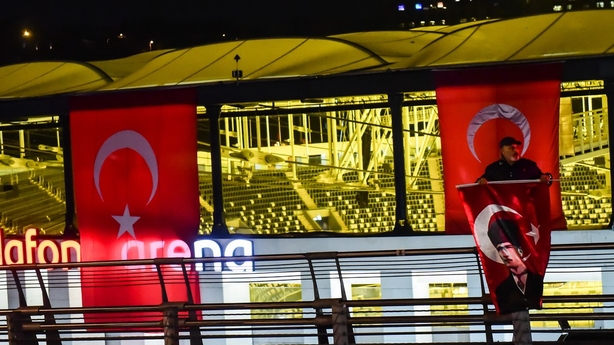 Besiktas adorned the outside of the stadium with Turkish flags on Sunday, which was a national day of mourning, and posted a message of defiance on its Twitter feed.
It read: "After yesterday's inhumane attacks, #Besiktas Vodafone Arena is decorated w/ Turkish flags today. Terrorism will not achieve its goals here!"
The club have offered condolences to the families of two club employees who were among the deceased - Vefa Karakurdu, a security director at the stadium and member of the club's congress, and Tunc Uncu who worked in their club shop.
A statement from Fikret Orman, chairman of Besiktas' board, added: "We strongly condemn the terrorist bomb attack on our police officers during their departure from the Vodafone Arena.
"On behalf of Besiktas I wish the deceased mercy from Allah. I offer my condolences to the families and I wish a swift recovery to those injured."
A statement on UEFA's Twitter feed on Saturday night read: "UEFA would like to express its deepest condolences to the families of all the victims of tonight's bombing in Istanbul.
"We strongly condemn this horrible act and send our support to the Turkish Football Federation, Besiktas and Bursaspor football clubs."
Bursaspor said on Saturday night that none of their supporters had been injured in the attack.
Four matches in the Turkish league took place as scheduled, preceded by a minute's silence, with flags flown at half-mast and no music played during the games.