Dundalk manager Stephen Kenny has urged Dundalk to continue their improvement next season after his side bowed out of the Europa League.
The Airtricity champions were left to rue individual mistakes in the 2-1 away defeat to Macabi Tel-Aviv, with AZ Alkmaar's 3-2 win over Zenit St Petersburg ensuring they finished second in the group and progressed to the knock-out stage.
Dundalk's historic campaign has drawn to a close, but Kenny believes that they can improve on this European campaign next season.
"It's hard to reflect straight away on the whole campaign, obviously I'm just disappointed with the game in question," he told RTÉ Sport.
"Overall we need to improve, we know that. Maccabi were different tonight.
"In the second half in Tallaght, where we outplayed them really and deserved our win, [but] tonight they deserved their win.
"We played Zenit St Petersburg who won their group in the Champions League last year. We played Maccabi who were in the Champions League last year and there was never more than a goal in any of the games.
"We've drawn with AZ, we beat Maccabi and the two Zenit games were two 2-1 games and tonight was 2-1 so they're narrow defeats, there's never more than a goal in it.
"We have to look to try and get better and we have to strive to improve and a lot of the players will have gained valuable experience. We had 12 European games this year which was fantastic."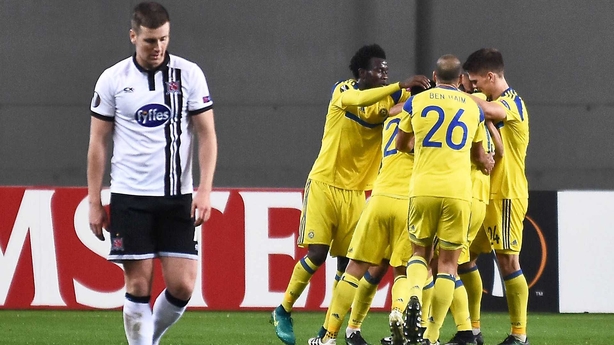 Kenny admitted that Dundalk were undone by uncharacteristically poor defending on the night.
"The goals that we conceded were obviously very disappointing for us. We started the game well and it's a really poor goal to concede from our point of view.
"I'd be very disappointed with the goals we gave away. They were criminal really so we're disappointed with that."