Leicester manager Claudio Ranieri has urged his squad to stick together after they suffered a Champions League humiliation in Porto.
The Foxes suffered a record defeat in the competition for an English side after being beaten 5-0 in Portugal on Wednesday.
Ranieri made 10 changes as he picked a shadow squad with the Premier League champions having already won Group G.
Ben Hamer was given a first start for almost two years in goal while Marcin Wasilewski made just his second appearance of the season and 18-year-old Harvey Barnes made his debut in the second half.
The changes were designed to revive the champions' Premier League season with the Foxes two points above the relegation zone ahead of Saturday's visit of Manchester City.
"Now I have a very clear idea about everybody, we have to stay together and think about the Premier League," Ranieri said.
"Okay we can lose but not in this way. My players lost a very great chance to show me their best.
"I have no regrets because I wanted to give an opportunity to all my players. If I needed to win or draw, I would bring all my first team to fight.
"But when you know there is another difficult match Saturday against Manchester City and you are top of the group, why not give a chance to players who say 'why don't I play? We are losing in the Premier League, give me a chance'.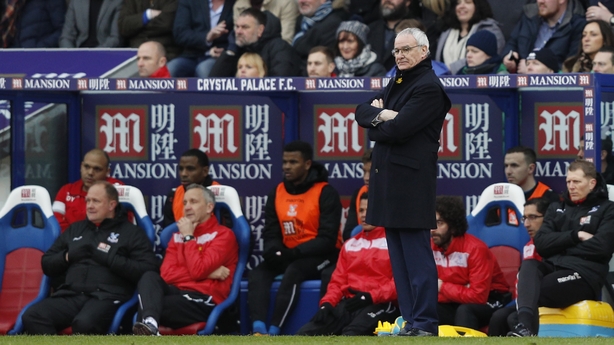 "For this reason, I gave a chance to them. That's it. Then, the result is my fault but they missed a great chance."
Leicester can play PSG, Benfica, Bayern Munich, Bayer Leverkusen, Real Madrid or Sevilla in the second round and will be massive underdogs.
Leonardo Ulloa hit the crossbar late on but the visitors were comprehensively outplayed and Ranieri accused them of rolling over.
He added: "I know it is not easy, you don't play and suddenly you play an important match in Champions League against great team but you have to do something more. The first goal is too easy and there wasn't the reaction."
Porto reached the last 16, beating Copenhagen to second spot, and boss Nuno Espirito Santo praised his side for their dominant performance.
He added: "We should be proud we win against the Premier League champions. We should not take credit away from our players but we know Leicester City did not come with best players they have."
I wanted to see something different of course. It was all too easy for Porto tonight and the players a great chance to show me what thewy can do.