Republic of Ireland striker Kevin Doyle insists that he has no intention of retiring from international football and that as long as he's playing football, he'll be available for his country.
Doyle's domestic season ended in disappointment as his Colorado Rapids side lost the Western Conference final 3-1 on aggregate to the Seattle Sounders.
But on the international scene it's looking up for the 33-year-old, who forced his way back into Martin O'Neill's Republic of Ireland squad to face Austria in November after missing out on the Euros.
At this stage of his career, Doyle is no longer a regular starter for his country but the Wexford man is eager to be on hand for whatever is required of him.
Speaking to 2FM's Game On, Doyle revealed that he had considered calling it a day with Ireland after dropping out of the reckoning for a place in the squad, but that time on the sidelines had underlined the importance of playing for his country.
"I've thought about it a bit in the last six months to a year," he said.
"Because I was out of the squad for a year, I was speaking to one or two players who were sort of the same age as me and they're maybe not playing and they were like 'should we concentrate on our club careers where we're playing week in, week out?'.
"Whether I get picked or not in the squad is another thing but if I'm needed, I'll be available."
"After seeing it from the other side, being out for a year, to come back is really enjoyable. You do miss it.
"To meet the lads you you've played with for years and year, just to catch up and be in that training environment and try play for your country.
"I've really enjoyed coming back and being involved again."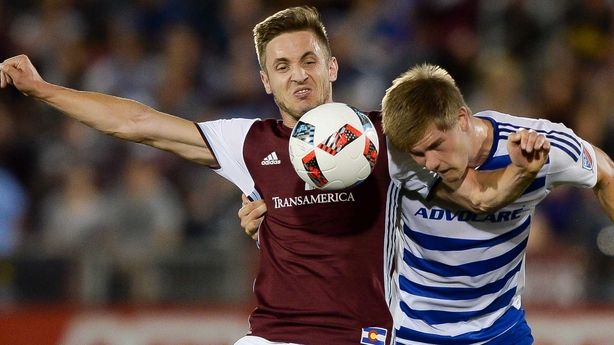 Doyle admitted that he was aware that his move to the MLS would see him fall down the pecking order when it came to selection, but again reiterated that he's willing to turn up whenever O'Neill needs him.
"I knew that playing well in England is definitely more beneficial to playing well in America but I just wanted a change. I'd been in England 10 years at different clubs, different managers and played at every stadium.
"I just wanted to do something different and the opportunity came so I thought 'why not?'
"It does affect my [international chances] a little bit but I'm getting picked, I'm in the squad. I knew that at the time and it wasn't going to change my decision.
"I've lots of caps for Ireland and I'd love to get a few more. While I'm a professional I'll keep myself available for selection.
"Whether I get picked or not in the squad is another thing but if I'm needed, I'll be available."