Wales manager Chris Coleman has declared Aaron Ramsey ready for World Cup action after confirming the Arsenal midfielder will start Saturday's crunch qualifier against Serbia.
Ramsey has only just returned from a hamstring injury suffered on the opening day of the season and not completed 90 minutes since the Euro 2016 last-16 victory over Northern Ireland in June.
The 25-year-old has had only 113 minutes of first-team action for Arsenal since returning from an 11-week lay-off.
But Coleman has stressed Ramsey's importance as Wales attempt to overtake Group D leaders Serbia, saying: "He's ready and he looks great.
"He's not played too much football for Arsenal but, of course, he's going to start the game as we sit here now.
"However long he'll last, physically, we don't know. But we do know he's generally probably one of the fittest players playing football.
"Looking at the last two months, we have to see where he's at. But he'll start the game."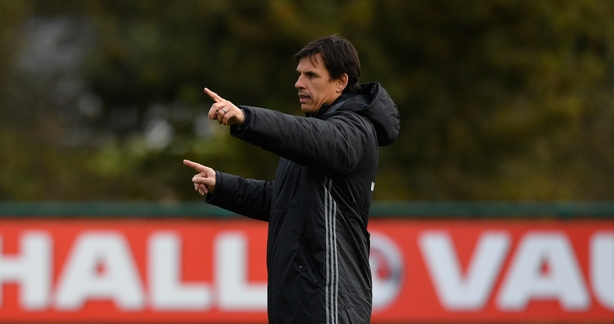 Ramsey was probably the stand-out player as Wales reached the semi-finals of Euro 2016 and was named in the official team of the tournament.
He was suspended for the semi-final defeat by Portugal and Coleman admits Wales have missed him during their opening three World Cup qualifiers.
Wales beat Moldova in their opening game before October draws against Austria and Georgia left them two points adrift of Serbia and the Republic of Ireland.
"Being without him for the first three games was a blow for us," Coleman said.
"It would be a blow for anyone, because when our games come around they are huge challenges.
"This is another and we've always got a great chance of beating anybody when we're at our strongest.
"But you have to say without Aaron Ramsey, take him out of any team and it's a loss.
"It's my opinion there's not a team on the planet he couldn't play for when he's at his best.
"That's not a biased opinion because I'm a Welshman and we all love Rambo.
"I'm looking at it clinically, because playing in the tournament against the top teams, he was head and shoulders above."
Coleman believes Wales have shaken off the complacency he felt crept in last month against Austria and Georgia.
"You have to say without Aaron Ramsey, take him out of any team and it's a loss."
And Coleman accepts it is a pivotal game as Serbia - who beat Wales 6-1 and 3-0 in 2014 World Cup qualifying - have recovered from a disastrous Euro 2016 to take seven points from the first nine in this campaign.
"We know how big it is, we've got seven games now and you can't miss an opportunity to take a step forward," Coleman said.
"If we win we're not [definitely] going to qualify, if we lose it doesn't mean we won't [qualify].
"But we need to make a statement, because we don't play again until after Christmas so it's a long time.
"They are the last team to beat us at home in a campaign game. But we are a different team and so are they.
"That's a scar, we can't take it away. But I won't be saying to the players we've got to make up for it; it's gone.
"We've more than made up for that since and we've moved on."