Dundalk's Daryl Horgan will find out within the next 24 hours whether he has made Martin O'Neill's final squad for the World Cup qualifier in Vienna next weekend.
The midfielder had one last chance to impress the Ireland manager in this afternoon's FAI Cup final at the Aviva, where his Lilywhites side were beaten by a last-minute extra-time goal by Cork's Sean Maguire.
But in reality, it has been Horgan's consistent performances for the champions that have gained him international recognition and his individual effort in Thursday night's Europa League clash with Zenit St Petersburg should have sealed his seat on the plane to Austria.
But if the Ireland manager was unsure of what Horgan can add to his Ireland squad, Sunday's 120 minutes of Cup final action will once again have reminded O'Neill of the qualities the attacking midfielder possesses.
Horgan proved a real live wire on the Dundalk left flank, most notably in the opening 45 minutes, while naturally drifting inside to cause real problems for the Cork defence, who were finding him difficult to mark.
Horgan's eagerness to get on the ball, drive the team forward and link the midfield and attack would certainly have impressed the talent scouts in the stadium, who would also have noted his willingness to track back and help out on the odd occasion when Cork did manage to get forward in that opening period.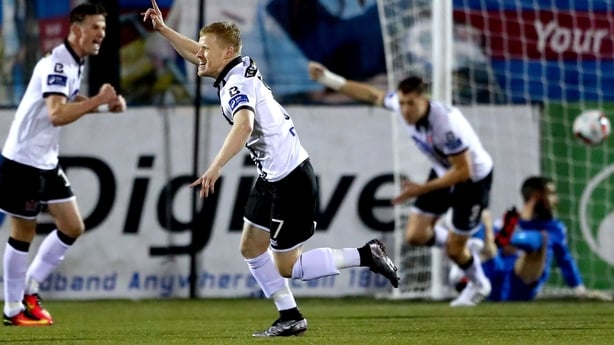 The former Cork City man was involved in two great goalscoring chances within a minute just before half time and while Horgan was denied by keeper Mark McNulty after attempting an instinctive chip from an acute angle, the second chance will have probably pleased those watching even more.
Horgan drove through the centre of pitch as the Cork defenders desperately back-peddled and while the 24-year-old could have attempted to go it alone, he instead rolled a perfectly weighted pass into the path of the arriving David McMillan who forced a fine save from the Cork keeper.
That awareness and selfless play will certainly have convinced any doubters of Horgan's overall attributes.
And while Dundalk's energy levels faded somewhat in the second half, allowing Cork into the contest, Horgan showed he still had plenty in the tank deep into extra time as he showed a clean pair of heels to Steven Beattie to drive into the box.
A winning goal, similar to Richie Towell's deciding and departing goal in last season's Cup final, would have proved the perfect ending to Horgan's domestic season.
But it wasn't to be as McNulty clawed away a Horgan cross that was curling into the top corner with just five minutes of extra time remaining.
And by the time Cork grabbed that last-gasp winner in extra-time injury time, Horgan looked out on his feet as this gruelling season came to a close.
So with just six days from that vital World Cup qualifier in Austria, it remains to be seen whether Horgan will make that final Ireland squad.
And if O'Neill is looking for a reason to leave the Dundalk man out of his squad, he may well point to fatigue rather than fitness, as there really is no other reason why the Dundalk star man will not be included.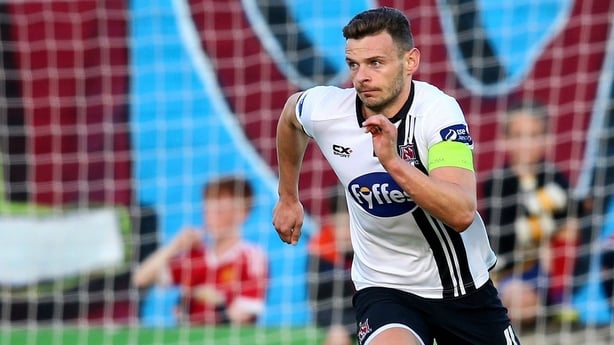 Boyle another waiting on Ireland squad selection
Like Daryl Horgan, Andy Boyle was the other of the Dundalk duo selected in Ireland's provisional squad for Saturday's clash with Austria.
And if the Ireland manager was looking for a convincing performance in this afternoon's Cup final, he will not have been able to point to many, if any cracks in the centre-half's performance.
Playing alongside the experienced Brian Gartland, 25-year-old Boyle looked totally at ease in the opening half at the Aviva.
Composed on the ball, with decent distribution, Boyle was never troubled in those opening 45 minutes and was more than willing to take the ball out of defence to get the play moving from the back.
Boyle made everything look easy, which is a real sign of a good player and sailed through the opening half of the Cup final.
Granted Cork were reluctant to commit players forward in the first half, which made Boyle's life a lot easier than it should have been, and the more attack-minded City side put huge pressure on the tiring Dundalk as the game proceeded.
Goalscorer Maguire ran the defence ragged in the second half and perhaps that overall Dundalk performance at the back might stand against Boyle when it comes down to the final selection for the Ireland squad.
And while the centre-half could not be faulted individually throughout, Boyle may have needed to put his hand up with a more dominating display to push ahead of one of the established squad centre-halves.
But the initial call-up for Boyle was certainly a nod to the player and his confidence should soar knowing that the Ireland manager has been watching and has been impressed.
A move across the water is surely imminent, where the manager will certainly be keeping close tabs.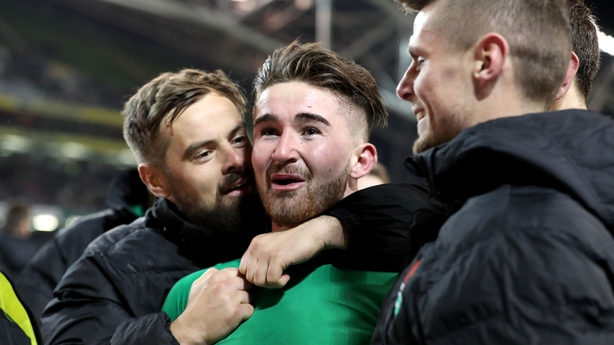 Maguire magic will alert potential suitors
The League of Ireland is certainly one of the best bargain basements in European football and while many clubs will have been over to watch Horgan and Boyle, Sean Maguire's performance will certainly have alerted English sides to his potential.
The former Waterford man has been in fine goalscoring form this season and while he may only have had one proper look at goal, the City striker dispatched it to claim the trophy for the Leesiders.
Following a quiet opening 45 minutes, where Maguire had little support from his defence-minded team-mates, the striker came alive in second half as Karl Sheppard and Gearoid Morrisey found themselves in more advanced areas of the pitch.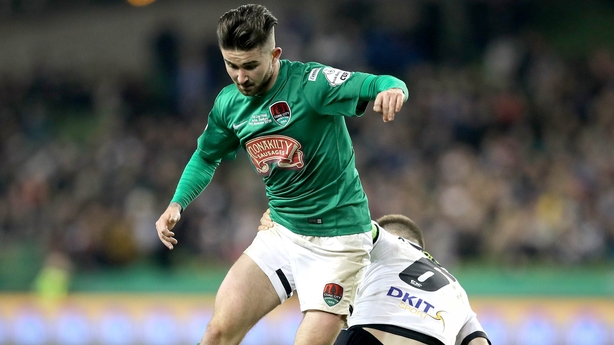 But Maguire's work-rate was phenomenal throughout as the striker cleverly dropped deep, while also playing in between the two centre-halves, which caused Dundalk real problems.
Maguire was always looking for the ball and proved a real tenacious competitor right up until that last-minute, where he deservedly grabbed the winner.
And while the striker has already had a taste of cross-channel football, having spent two years at West Ham, at 22 years old, there is no reason why the English clubs won't come knocking again.