Jose Mourinho could be set for a second FA charge in a matter of days on Monday after he was sent to the stands for the second half of Manchester United's goalless draw with Burnley on Saturday.
The Portuguese, who has until 6pm on Monday to respond to a misconduct charge related to comments he made about referee Anthony Taylor prior to United's match against Liverpool earlier this month, must await news from the FA after this latest incident.
The former Chelsea boss was banished to the stands by referee Mark Clattenburg, who had rejected a penalty claim from United towards the end of the first period.
The FA will now look at the official's report of the match before deciding whether to charge Mourinho.
The draw extended United's winless run in the Premier League to four games, with forward Zlatan Ibrahimovic having failed to net in his last six league matches - his worst scoring run since he was at Inter Milan in late 2007.
However, midfielder Ander Herrera, who was sent off against the Clarets, is convinced Ibrahimovic will soon light up Old Trafford after scoring just once in his last 10 matches.
The Swede did not score from any of his 12 attempts against Burnley, but clearly retains the confidence of his team-mates.
"I think if one player can get back and pass this moment it's him because of his attitude, his character, the way he works," Herrera said.
"I have no doubt he is going to score a lot of goals for us.
"But it is not only him - we have missed a lot of chances, not only him.
"He is giving us a lot of things for the team. Some of the chances we created came because of him, so we cannot tell him anything.
"We have to say that we have one of the best strikers in the world and his attitude, his character, is top."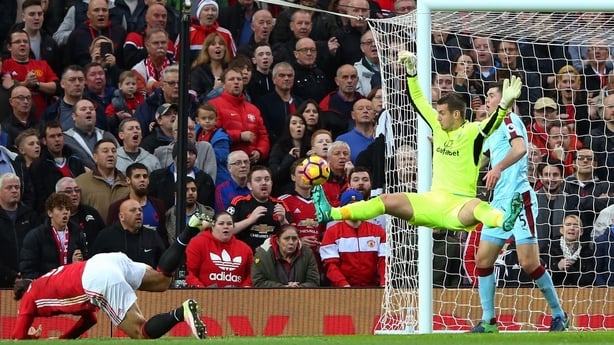 However, there is no doubt that Ibrahimovic's profligacy in front of goal, allied with that of his team-mates, is costing United.
Mourinho's men had 37 attempts against Burnley but could not find a way past the inspired Tom Heaton, ending a month that started with a 1-1 draw at home to Stoke in a similarly frustrating manner.
Herrera says "both draws felt like defeats" yet remains confident United are going in the right direction, even if fortune is seemingly not on their side.
"The dressing room was completely disappointed because of the way we played," he said. "Four points we deserved to get easily, Stoke and Burnley.
"Today there are no words. I think we have to get the heads up because we have done a lot of good things.
"But it's very, very hard to go home now and I am not going to be able to sleep, for sure, because I am going to have those missed chances playing around in my head."
Herrera looked drained after a galling result that saw United slip eight points off the lead.
"Unbelievable," he said, puffing out his cheeks. "I was talking with Juan [Mata] and we both agreed we never have left something like that on the pitch and not got a result.
"We controlled the game for 90 minutes. Not to score a goal was unbelievable.
"We have the luck against us right now but we have to keep playing like we did here and against Stoke and hopefully one day we can get a fair result - 5-0 or 6-0."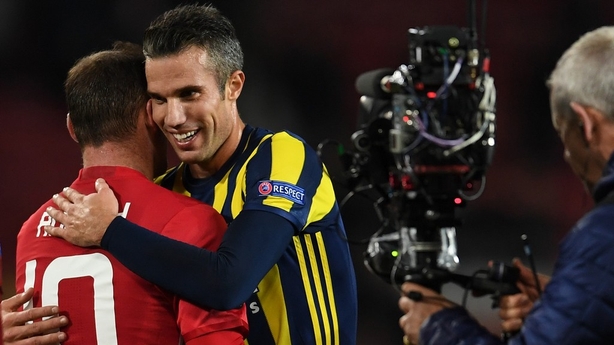 Herrera was also dismissed for the first time in the Premier League after Clattenburg deemed him guilty of two yellow-card offences.
"Two fouls in the game," he said of his two yellow cards. "Both of them I didn't want to make.
"The first yellow card I bent my knees, I didn't want to kick the opponent.
"The second, I slid in. But I don't want to complain because I don't want to be banned for more games.
"The only thing I can say is that I didn't want to make those fouls. I am not a violent player. I slipped."
Herrera will miss United's final Premier League match before the international break at Swansea next Sunday, which comes after a testing Europa League clash in Istanbul against Fenerbahce.
The trip to Turkey is the latest chance to kick-start an inconsistent campaign that the Spaniard believes could yet end in glory.
"We want to fight for everything. We want to fight for the championship," Herrera said.
"We have lost four points that we should have won easily. But this is football and this is the Premier League."