Celtic captain Scott Brown believes Brendan Rodgers' tactical influence will become more and more apparent over the coming months.
Brown has credited the Celtic boss with maturing the team as well as improving their tactical knowledge, fitness and football.
The 31-year-old himself has looked a transformed player this season, although an extended summer break also helped after hamstring problems dogged him earlier in the year.
The midfielder is feeling so good about his game that he is set to perform a U-turn and return to the Scotland fold less than three months after announcing his international retirement.
Brown also admits that he could not have foreseen Celtic's season going so well that they could go 10 points clear by beating Aberdeen at Pittodrie in their 10th Ladbrokes Premiership match.
It is starting to work, it is starting to show on the park
"Probably not, and that's pretty much down to the manager and the way he has laid down his philosophy," said the midfielder, before it emerged he was on his way back to the Scotland fold.
"It was always going to be hard at the start of the season with so many games in the Champions League, but as soon as we got that out the way and got into the Champions League, we worked on how to play out from the back and his game plan more than anything.
"It is starting to work, it is starting to show on the park. The movement and ball control we have got and the possession has been really good and it's been what he has been wanting."
The former Hibernian player added: "I think the team is maturing, we are learning when someone is out of position you fill in for your mate, where to go to receive the ball, where the gaffer doesn't want you to be as well, how to press high up the park where we all should be.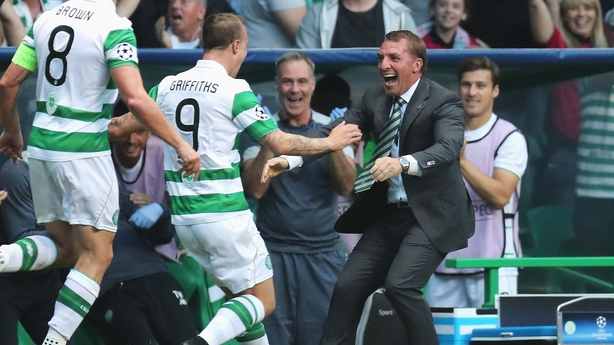 "We are still learning that, we are getting there, but as you have seen with his other teams, Liverpool and Swansea, they pressed high up the park and the football has been fantastic, and that is the level we want to get to.
"We have improved. Our fitness has improved, football-wise we have improved, game knowledge has improved as well.
"But there is still a lot to come from us and we need to continue improving all the way through this season."
Aberdeen beat Celtic twice at Pittodrie last season and Brown is not getting carried away by the prospect of stretching their lead into double figures.
"It puts us in a great position but we can't go up there thinking like that," said Brown, who was rested for the 4-0 midweek win over Ross County following the birth of his third child.
"We're not going in there just thinking we are going to win. It's going to be hard, going up to Aberdeen is always hard.
"They have got some great players and some good pace as well on the counter-attack. They will give us a really tough game, but we're looking forward to it and there's a few players pushing for starting places who played on Wednesday night."