Barcelona expect Manchester City to prove formidable Champions League opponents with Pep Guardiola at the helm.
Watch Barcelona v Manchester City live on RTÉ2 from 7:30pm Wednesday.
Former Barca boss Guardiola takes his City side to the Nou Camp on Wednesday for the first of two eagerly-anticipated meetings between the clubs in Group C of this season's competition.
Barca were not overly troubled as they beat City at the last 16 stage in both 2014 and 2015, winning all four matches.
But the arrival of the revered Guardiola as manager in the summer could take City to a different level and Barca know full well what their former hero is capable of.
Guardiola won 14 trophies, including two Champions Leagues and three LaLiga titles, during a glorious four-year spell in charge of the Catalan giants.
Barca's current manager Luis Enrique said: "We have already said how difficult this game is going to be, not only because of the quality and high class of their players individually, but as a team.
"It is Man City led by Pep. We know it is going to be more difficult than previous seasons."
"You can already see, at the beginning of the Premier League, many differences compared to previous seasons. You can already see the hands of Guardiola and I am sure the team will keep improving. They play very attractive football.
"For us it is a great challenge and not only because we are trying to get first place in the group. It is Man City led by Pep. We know it is going to be more difficult than previous seasons."
Enrique was speaking at a press conference to preview the game along with long-serving defender Gerard Pique, who was full of praise for his old manager.
The former Manchester United player said: "Guardiola made a mark on all of us one way or another. There was a before and after and we understand football in a different way since he was here.
"I can only praise a coach that gave us so much. I came from not playing at Manchester United and here he gave me everything.
"City are very different to last year, obviously because Pep is in charge and has changed their way of understanding football.
"It'll be a challenge for us because it's a team that plays in a very similar way to us. They'll pressure us a lot high up and it will be hard for us to keep the ball."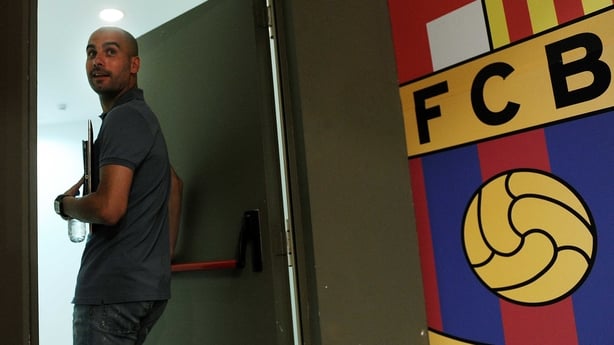 Guardiola, who also enjoyed a successful playing career at the Nou Camp, left the club in 2012 and has since had three years in charge of Bayern Munich.
Although Barca still play the fluid football of the Guardiola era, Pique believes the team has moved on - after all they won the Champions League again in 2015 and are the reigning Spanish title-holders.
He said: "We liked to have the ball and would not change that unless our rivals played a similar way. With Luis Enrique we have improved our counter-attack."
Enrique, a former team-mate of Guardiola's for Barca and Spain, expects the contest to be one of high quality.
The 46-year-old said: "I can't imagine a better game for any football fan, not just City or Barca fans, but football fans in general."
Enrique confirmed defenders Jordi Alba and Sergi Roberto, Barca's only two injury doubts, had both overcome injuries and were in contention.