Joe Hart has said he savours every chance he gets to wear the England shirt after putting a troubled summer behind him.
Hart's struggle for form was one of the reasons behind the team's Euro 2016 embarrassment, as he let in soft goals against Wales and England's conquerors Iceland.
Worse was to follow as new Manchester City manager Pep Guardiola dropped him from the line-up and set in motion his eventual loan move to Torino.
But in Slovenia on Tuesday night Hart's stock was back on the rise as he turned in a near-flawless performance, including arguably the finest save of his career, to earn his side a 0-0 draw in Ljubljana.
On a personal level it was a redemptive and much-needed performance from the 29-year-old.
"The summer was difficult. I am gutted about how the summer went but it has gone now," he said.
"Football moves quickly. You have to move on. I have done the same when I have won things, I have done the same when we have won leagues.
I just love diving around in goal. Being able to do it for my country is amazing
"You have got to keep fighting. I will continue to keep fighting for my country. I cherish every moment I play and long may that continue.
"I just love diving around in goal. Being able to do it for my country is amazing and I remind myself of it every single time I pull on an England shirt."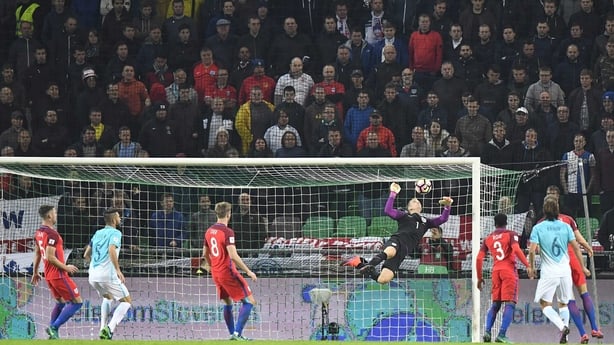 Much was made of Hart's demeanour before matches in the Euros, when he seemed to whip himself into a frenzy before stepping on the pitch.
Southgate suggested he prefers the goalkeeper to be calm and Hart has seemingly ditched the histrionics in recent matches.
"I am trying to grow and I am trying to improve every single day," he explained.
"I would have loved to have saved the two shots that I should have saved [during Euro 2016] but they are gone.
"I am going to try and rectify that by being in a good place. As a goalkeeper, you can't chase situations. On Saturday against Malta, I didn't have anything to do. Against Slovenia, I did. You have got to let the ball come to you as a keeper."
He had to do significantly more than that to deny Jasmin Kurtic early in the second half at Stadium Stozice.
His reaction to the goalbound header was superb, blocking the ball against the underside of the crossbar then palming it away a second time with his trailing hand.
In the process he clattered the post, requiring treatment afterwards.
"Sometimes you will take a whack for it but I will do anything to keep the ball out of the net," he said.
"They hurt but we get up and get on with it."