Gareth Southgate accepts England were fortunate to leave Slovenia with a draw, but was pleased to keep World Cup qualification on track having inherited a "mess".
Two weeks ago the Daily Telegraph's secretly recorded footage put paid to Sam Allardyce's dream job after just 67 days, with the England Under-21s manager parachuted in for the final four fixtures of a turbulent 2016.
Southgate's interim reign started with a straightforward, if uninspiring, 2-0 win against Malta and continued last night in Slovenia, where only the fine form of Joe Hart kept the Three Lions from falling to a first qualifying defeat in seven years.
England were ponderous in the 0-0 draw but the manager was relatively pleased given what has been a whirlwind fortnight.
"I can't thank the players and support team enough for the backing I have had," Southgate told ITV.
"The four points from the position we were in last Tuesday... we wanted six, we would have liked to have scored more goals in the two games.
"But we have taken over a mess really and had to steady the ship.
"With the overall objective of qualifying, we have kept the team on track."
Southgate knows his team can play better, calling for the players to cut out mistakes and show a more clinical edge when they reconvene next month.
A friendly against Spain follows a mouth-watering qualifying clash with Scotland, with Hart almost certain to remain in goal at Wembley after a stunning display.
Putting a difficult Euro 2016 behind him, Hart - unfancied by Manchester City boss Pep Guardiola and farmed out on loan to Torino - had to be at his best against the side ranked 67th in the world.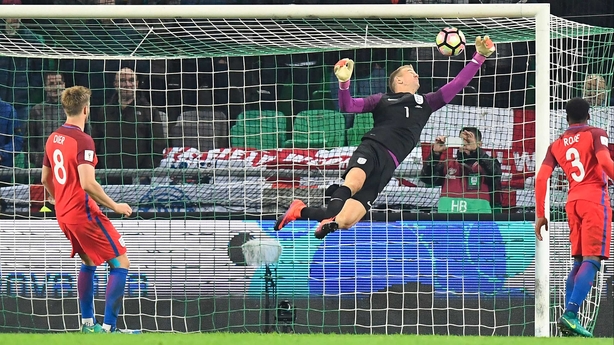 The 29-year-old produced a string of top saves, topped by somehow pushing a Jasmin Kurtic header onto the crossbar and flicking it away on his way down.
"I had a long chat with him earlier in the week just to talk about what does he look like at his best," the interim boss said of Hart.
"The two words he started with were 'calm and composed' and I thought that's what he has been in the two matches we've had.
"His decision making has been excellent, his use of the ball with his feet has been very, very good.
"And, you know, two or three of his saves were absolutely outstanding, so I think he showed the level that he's capable of. He was top, top class."
Southgate admitted they owed Hart on a night when frustrations boiled over late on, with Jesse Lingard reacting angrily to Aljaz Struna in an incident that saw both players booked.
"I'm told it was just he's reacted to someone raising their hands at Marcus (Rashford)," Southgate said.
"That's something he has got to cut out because there's a danger you get a red card in this sort of game, where there's inconsistencies in a lot of the decisions then there's even more of a risk."