Stephen Kenny has a big decision to make with his goalkeeper selection ahead of tonight's top of the table clash between Dundalk and Cork City (7.05pm), according to RTÉ Soccer pundit Alan Cawley.
The former Shelbourne midfielder stated that he would not be surprised if the Dundalk manager dropped his first-choice goalkeeper Gary Rogers due to a string of mistakes that have cost the Lilywhites goals in recent weeks.

Speaking on RTÉ Sport's Soccer Republic on Monday night, Cawley highlighted four big mistakes that Rogers has made in recent weeks, which he believes has caused an uneasiness in the Dundalk defence.
Dundalk were comprehensively defeated 3-0 by Sligo Rovers on Saturday evening and the opening goal, which came with less than a minute on the clock, was a direct result of Rogers failing to control a very basic back-pass, the ball rolling under the keeper's boot, resulting in the tap-in opening goal for Achille Campion.
"The first goal set the tone for the defeat," said Cawley. "Gary Rogers was at fault and his form has been questionable in recent weeks.
"For Rogers to miss it like that, it's unforgivable. That's the most basic skill in the game - to control a ball like that and for him to try and control it with his studs...and it was nothing to do with the pitch.
"For me he was at fault for [Lukas Schubert's] goal a few weeks ago against Derry, and against Shamrock Rovers.
"Although, it was an iffy-enough back-pass [for the Rovers goal], I think a goalkeeper of that quality, playing in the League of Ireland should be able to deal with that.
"And also in the European match against AZ Alkmaar, he also made a huge error. So it has been four high-profile mistakes in the past three or four weeks and I think the manager has a massive decision to make now as the game is so big."
Pictured below: Gary Rogers speaking to Roy Keane during his recent international selection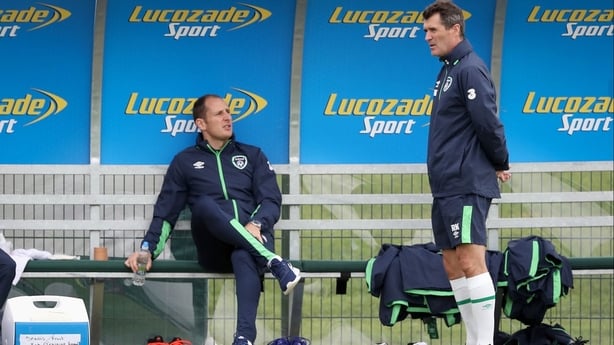 Dundalk boss Kenny rested Rogers in their recent FAI Cup semi-final clash against Derry City, and Cawley believes that reserve keeper Gabriel Sava did enough to stake his claim for a league start over the coming weeks.
"Gabriel Sava played very well in the Cup game last week, so do you leave Rogers out?" asked Cawley.
"I think he is struggling confidence-wise and there is also a nervousness seeping in now between Brian Gartland and Andy Boyle for any ball that goes over the top, and I think Rogers is aware of that too.
"And I wouldn't be surprised if Stephen Kenny leaves him out."
Cork City can leapfrog the reigning champions with victory in tonight's game in their bid to claim their first title since 2005 and prevent Dundalk's bid for three in a row. 
Cawley's fellow Soccer Republic pundit Johnny McDonnell believes that tonight's game has come at the right time and against the right opponents as they get a chance to remedy Saturday's poor result by having the chance to move four points clear at the top of the table.
"It's a massive game for both teams. We've seen Dundalk in recent matches where they have gone behind and bounced back so it was not like them to lose the game [against Sligo] 3-0.
"It might just regroup them for this game but it is important that the game has come thick and fast and it is against Cork."
Former Drogheda manager Mark Kinsella believes that Cork might edge the game tonight based on their current form and momentum.
"It's a massive game for both sides," said Kinsella, speaking on RTE Radio 1's Morning Ireland.
"I thought Cork threw it away about a month ago when they played a couple of extra games and ended up drawing them and not taking advantage of the weekends that Dundalk were not playing.
"But they have got themselves back into it now, so I think that Cork will see this as their first FAI Cup final as they can get just ahead of Dundalk in the table and it will be in their own hands.
"Cork have won both games in the league. They will be going in full of confidence, saying that we have done it before and we can do it again.
"I think Cork will just edge it, with their momentum, playing them twice and beating them twice."
Kinsella, of course, is far from writing the champions off and believes that tonight's clash will be a real test for the club's big players to step up to the mark.
"But you can never write Dundalk off, big games and big players come alive. This is their big game. If they win tonight, they can go four points clear and then they can manage things a little bit better.
"But if they lose, they go behind and I think they'll find it tough."
Watch Dundalk v Cork City live on RTÉ2 and the RTÉ Player from 7pm