Rangers face having to pay off the remainder of Joey Barton's £2m contract if they cannot find grounds to sack him.
The controversial midfielder's Ibrox career appears all but over after he was told not to report back for training on Monday morning.
Barton is on the eve of completing a month-long club suspension but Rangers have now confirmed he has been told to stay away for another week while further disciplinary action is considered.
The club said in a statement: "Joey Barton has been informed that his suspension by the club has been extended by one week.
"This is part of a formal disciplinary procedure and Joey has been instructed not return to Ibrox or Auchenhowie [training ground] until further notice.
"Neither party [the club and player] will make any further statement or comment."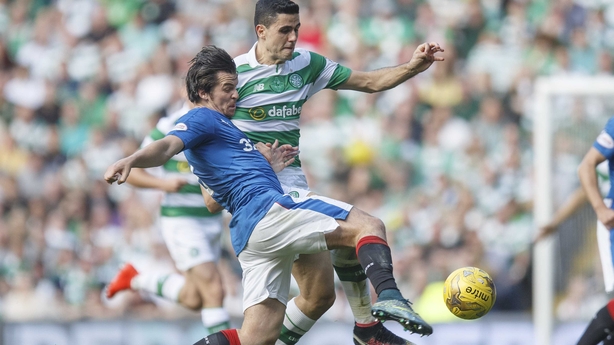 The player and his representatives are now awaiting further instruction but it is almost certain he will not be seen again in a Rangers kit.
He signed a two-year deal in July worth £20,000 a week and unless Rangers decide to dismiss him, Barton will demand the balance of his contract is settled before moving on.
The former Manchester City, Newcastle and QPR player was banished from the club's training base last month following a furious row with boss Mark Warburton and team-mate Andy Halliday in which he criticised the team's approach to defending in the wake of their disastrous Old Firm defeat at Celtic Park.
His refusal to apologise and an unsanctioned live radio interview saw his initial seven-day exclusion extended by another three weeks.
Joey Barton has been informed that his suspension by the club has been extended by one week. - Rangers statement
Barton is also being investigated by the Scottish Football Association over allegations he broke strict betting rules.
The 34-year-old has been given until Wednesday to respond after he was charged with placing 44 bets on games between 1 July and September 15 this year.
Barton knocked back a £35,000-a-week offer from former club Burnley to move to Scotland.
The outspoken former England international claimed he would prove himself to be the best player in Scotland after clinching his move to Rangers but he failed to make an impact in the eight appearances he made for Warburton's team.
Despite being told to stay away from the club Barton has stated repeatedly that he wants to return and fight for his place. Reports last week claimed he had even flown to Qatar to take part in a gruelling boot camp designed to have him operating at peak fitness ahead of his return to Warburton's squad.