Dundalk manager Stephen Kenny says their congested fixture list is having a negative impact on Irish football after watching his side reach their second successive FAI Cup final.
Hopes of a 'double double' remain on track after a penalty from Ciaran Kilduff and second half header from Ronan Finn saw the Lilywhites complete a comeback victory over Derry City in the semi-final replay.
While the manager was pleased to set-up a final date with Cork City next month, Kenny told RTÉ Sport that their gruelling fixture list is "unprecedented".
Sitting top of the Airtricity League and pushing for qualification from their Europa League group after four points from their opening two games, they are in the midst of a punishing schedule of 10 games in 27 days.
Following the victory over Maccabi Tel Aviv last Thursday, they played Derry on Sunday and Tuesday [replay] and now turn attentions to Sligo Rovers on Sunday.
They will prepare for the Cup final on 6 November with an away fixture to Zenit St. Petersburg three days beforehand and Kenny says his players are doing all they can in the face of difficult circumstances.
"It was a tough game for us having played in Europe on Thursday. It was good to come out the right side of it," he said.
"The schedule is unprecedented in any league across the world. We're looking to raise standards, but by doing that we're diminishing standards...I think that's a reality.
"Listen, the reason that this team has won back-to-back league titles and won the double last season because it has huge guts and courage
"Courage to always want the ball, courage to fight for each other depending on the circumstances."
The 44-year-old admitted that the win in Derry was not the level of performance that fans have come to expect this season but felt his players' resilience was the decisive factor.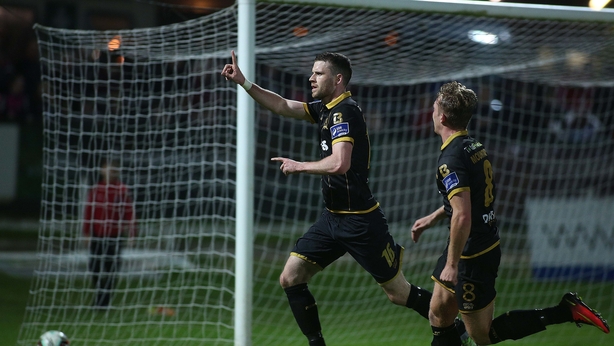 "For us to go a goal down in the first couple of minutes was a real blow for us. Derry came out of the blocks really flying.
"We showed immense character to come back. The second goal was exceptional from Ronan Finn, brilliant.
"We had to dig in, it wasn't a vintage Dundalk performance. It wasn't a performance synonymous with the way we've played this season, but we showed the different types of qualities you need."
A major talking point was the decision by match referee David McKeon to award the away side a first-half penalty after Robbie Benson was upended inside the box by Niclas Vemmelund.
The additional referee behind the goal, Paul Tuite, informed referee McKeon to award the spot-kick, which Kilduff dispatched into the corner.
While Kenny was adamant it was the correct decision – "There was no question it was a penalty" – his counterpart Kenny Shiels was furious with the match officials on the night.
Shiels also voiced his displeasure that Graham Kelly, who took charge of Sunday's draw, was not retained for the replay.
"I can't say or I will get myself into trouble," he told RTÉ Sport when asked his grievances with the performance of the referee.
"You have seen it yourselves. You have to make your own judgement and hopefully you will report that because you have seen what happened and what went on on the pitch.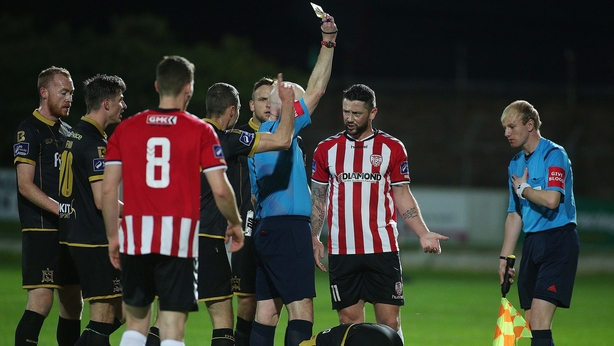 "A player being able to get away with incitement...The player [Benson] taking a dive inside the penalty box.
"They brought in extra officials to manage that and monitor it. It's outside my control. I can't speak to you with total integrity because if I give you my honest appraisal of the performance then I'm in trouble."
When pressed further on the penalty, at a stage when the home side were 1-0 up, the former Kilmarnock boss insisted that the referee was conned for the crucial decision.
"Amazing...he's cut and fell and it's not a penalty. If I'm wrong I'll hold my hand up...the fourth officials or whatever you call them guys down around the goal mouth he was, I don't know, I think he was on the phone at the time.
"Maybe I'm wrong. He looked to be on the phone. I don't know if he was on Facebook or Twitter or whatever it was, but certainly the guy [Benson] just rolled over."