Sue Ronan is to leave her role as head coach of the Republic of Ireland women's senior international team after almost six years in charge.
The former Ireland international and FAI Women's Player of the Year will continue to be employed by the Football Association of Ireland as head of women's football, a new role which was introduced last year. 
Ronan's time in charge has spanned three major qualifying campaigns, which will come to an end in November this year.
Following 10 years as head coach of the under-19 side, Ronan took over the senior team in October 2010, leading up to Euro 2013, where Ireland finished fourth in a qualifying group containing France, Scotland, Wales and Israel.
In qualifying campaign for the 2015 World Cup, Ireland finished third in their group behind Germany and Russia.
And the team finished fourth in Group 2 for Euro 2017, following a 1-0 defeat to Portugal on 20 September.
"It has been an absolute honour to have had the opportunity to manage my country for the last six years," said Ronan.
"While we unfortunately haven't achieved our goal of qualifying for a final tournament, it has been a pleasure working with a such a group of dedicated players who have always given their all to me personally and for the green jersey.
"I feel with the experience we now have in this squad, along with the quality of youngsters currently on our underage teams, the future looks very bright and will ultimately lead us to that goal of playing amongst the elite of Europe at a major finals.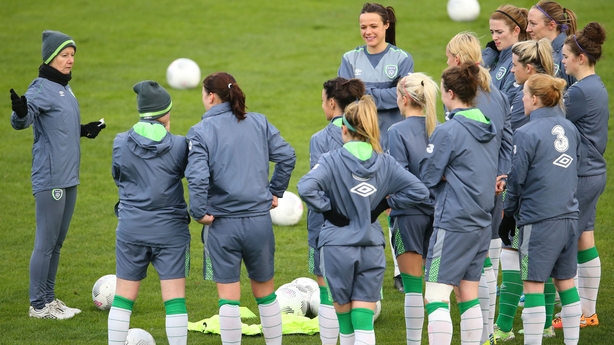 "In my role as head of women's football I will be striving to put the structures in place that are absolutely necessary for this team to take that next step, so it's an exciting chapter in my career.
"I would like to take this opportunity to thank my staff for all their efforts and commitment and I look forward to working with the players and new management team in my role going forward."
FAI CEO John Delaney said: "Women's football has made tremendous strides in Ireland over recent years thanks to the hard work of coaches, administrators, officials, volunteers, and people like Sue Ronan.
"Ireland is now recognised as one of the most improved nations in Europe when it comes to women's football and Sue will continue to play a big part in that.
"I have no doubt that Sue will continue to be a driving force in the women's game in her role as head of women's football."
Ronan's final game as head coach will be a friendly against Basque Country XI in Tallaght Stadium on Saturday, 26 November.
The recruitment process for a new head coach of the Ireland team will commence shortly and it is expected that an appointment will be made later this year.