Sergio Aguero is set to sign a one-year extension to his contract with Manchester City, manager Pep Guardiola has confirmed.
The striker, who has scored 145 goals in 213 appearances since joining City in 2011, is expected to commit to the club until 2020.
The 28-year-old has previously spoken about rejoining first club Independiente at the end of the five-year deal he signed in 2014 but reports have suggested he will opt for an additional 12 months at the Etihad Stadium.
Guardiola said: "I don't know if I am the right person to talk about that but I think he is going to extend the contract.
"But it is not official. I don't know if it is definitely going to happen but if he stays I will be so, so happy."
Aguero has been a huge success since moving from Atletico Madrid in a £38million deal five years ago, with his goals propelling City to two Premier League titles.
His goal tally places him seventh in the club's all-time goalscoring list and it seems only a matter of time before he overtakes the record total of 178 set by Eric Brook in the 1920s and 30s.
He has started the new season in superb form, scoring nine goals in five appearances, including two hat-tricks.
The latest of those trebles came in Wednesday's 4-0 Champions League win over Borussia Monchengladbach but he must sit out City's next two games - Saturday's Premier League clash against Bournemouth and the midweek EFL Cup trip to Swansea - as he completes a domestic suspension.
Meanwhile, Guardiola has warned Bournemouth he is far from satisfied with Manchester City's exhilarating start to the season.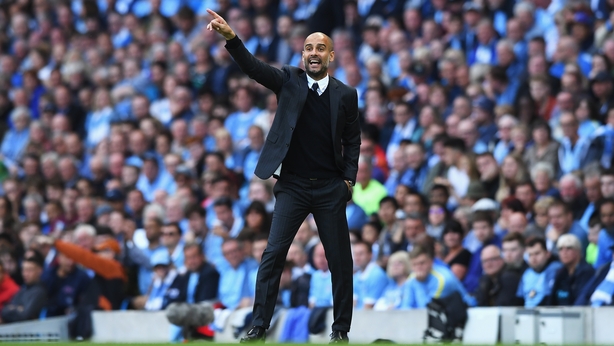 City have won all seven of their games since Guardiola took over as manager in the summer and their football has, at times, been spellbinding.
Yet, as good as they have been, Guardiola is demanding improvement.
The Spaniard, whose side host Bournemouth in the Premier League on Saturday, claims he can never be truly happy with a performance.
Guardiola said: "After (a game) for half an hour, one hour, sometimes three or four hours we are so happy - but after that you start to think again about the next one, you start to worry about the strikers of Bournemouth and how they play.
"I saw their game against West Ham and they were unlucky and they played really, really well against United in the first 30 minutes. They were perfect on the pitch.
"I'm not thinking about what we did in the past, our four games in the Premier League, our three games in the Champions League. I'm thinking about what's going to happen tomorrow - what I have to tell, what I have to do, what do I have to train for them to be ready for our game.
"The Premier League is so difficult because you play so many complicated games. Any team can beat you and I have felt that. Tomorrow I am going to feel that."