Martin O'Neill is confident emerging Republic of Ireland star Robbie Brady can help to fill the yawning chasm left by Robbie Keane's retirement from international football.
The 24-year-old Norwich midfielder, who has operated as an emergency full-back for his country at times, scored Ireland's Euro 2016 winner against Italy which booked their place in the last 16, and then shocked hosts France with a nerveless early penalty.
Manager O'Neill freely admits the task of filling Keane's boots - he scored 68 times in 146 appearances for his country - is a daunting one, but he believes the likes of Brady and fellow youngster Jeff Hendrick can in part plug the gap.
He said: "Yes is the answer to your question, in short, he can. Do I think that Robbie could end up scoring the goals - or even a third of the goals - that Robbie Keane scored? I'm not so sure. He'd have to play a lot of international matches for that.
"But I think that every one of the players, the younger players in particular, should take bits of his game, his preparation for matches, take all those things into consideration and try to learn from him. Those players who aspire to score goals in our team should particularly take notice of that.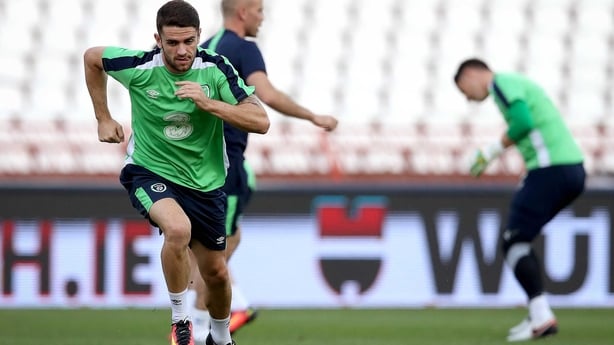 "Do I think Robbie Brady can score goals from midfield? Yes. Do I think Jeff can score goals from midfield? Yes. But it's easy for me to sit and say these things, they have got to go and do it."
The pair will get their latest chance in Belgrade this evening as the Republic launch their 2018 World Cup qualifying campaign against Serbia (7.45pm, live on RTÉ2) with Keane now a spectator.
Their fate will be far from decided by what happens at the Crvena Zvezda Stadium, but O'Neill is expecting Group D to be so tight that every single point will be priceless.
He said: "From our viewpoint, I don't think it's possible to start to play for a draw, but I think in this competition, I feel it will be so tight, so, so tight, that every point is going to be valuable.
"Nobody will run away with this group at all. It will be very tight. Every point is valuable.
"We, in our European campaign, won the opening game against Georgia, which became a very, very important three points for us, and any team that wins away from home in this group will do very well."