Martin O'Neill would not be drawn on who will win this World Cup qualifying group ahead of tomorrow's opening encounter against Serbia. However, with three away games in the opening four matches, the Ireland manager wants to ensure that his side are still in the competition before it really starts.
Ireland's opening game in their quest to book a ticket to Russia in 2018 is as tough as they can expect in this group as they come up against a rejuvenated Serbia, playing under a new coach, at the always hostile Red Star stadium in Belgrade.
O'Neill believes that the group will be very tight with four teams all confident of winning it and while the manager would probably happily take a point from this game, he admitted that it is not possible to set his team up for a draw.
"The game itself here will be exceptionally difficult," said O'Neill. "From our viewpoint, I don't think that it is possible to play for a draw but in this competition, I feel that this group will be so, so tight and that every point is going to be valuable and no one will run away with this group at all.
"Of course, there is only one team certain of qualification, so your mindset should try to be set to that."
"In our opening game of the European campaign, we won away in Georgia and it became very important, but I think any team that wins away from home in this group will do very well.
"I think there seems to be a rejuvenation of Serbia with the new coach coming in and I think it will be very, very tough for us.
"We're sitting here on the eve of the competition starting and there will be a lot of twists and turns, but of course, there is only one team certain of qualification, so your mindset should try to be set to that.
"After three or four or five matches, you look at it from a different viewpoint: can you pick up points here?
"Three of our first four games are away from home. We need to stay in the competition before we actually even get into it.
"And these games are tough. We're away to Serbia, home to Georgia, away to Moldova and away to Austria, before you get started, before Christmas."
"We need to stay in the competition before we actually even get into it."
While O'Neill acknowledged that there was a risk that this tight group could result in the second-placed team having the least number of points, he said that it will not matter if his team finish on top of the group.
"Teams will take points off each other. We could end up with the lowest number of points but if you end up on top, does that matter? But to speak about being top at this moment would be ludicrous of me."
James McCarthy did not travel with the Ireland squad but otherwise the manager implied that he had no other injury concerns going into the game, despite doubts over the fitness of Seamus Coleman and John O'Shea.
The manager said that he would foresee no problems with the fitness of either player should they get selected, and is not concerned about lack of game time in recent weeks.
"Seamus Coleman has played up to the start of the season. He got injured on the Thursday before the season started.
"Seamus is naturally fit; and John has played and participated. Not only has he played but he ended up playing in central midfield in one of the games.
"So for John, that's the equivalent of about eight games," O'Neill joked.
"I would have no qualms about putting both players in at this minute. We'll see; they are training here today. They've had no ill effects and they are pretty good."
Coleman is expected to be named as the official Ireland captain but while the manager confirmed that he has made up his mind, he was not willing to publicly announce it just yet.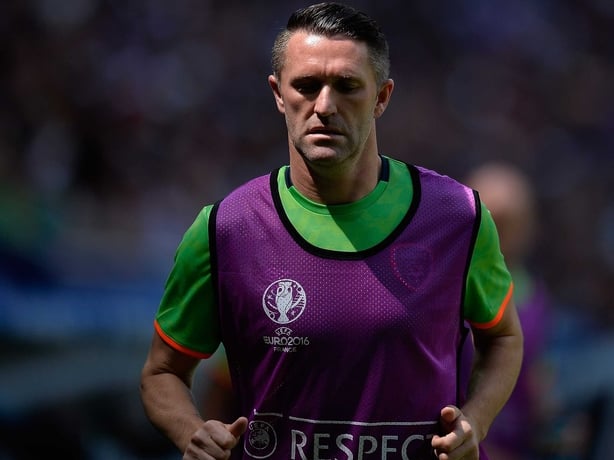 O'Neill was pushed on the matter and asked whether tomorrow's captain would be the long-term captain.
"I would say there is a fairly decent chance, but again it depends how the training goes tonight," said O'Neill, which perhaps suggests that Coleman may indeed have to prove his fitness ahead of the opening qualifier.
While this Ireland squad have a very familiar look from the team that impressed at Euro 2016, there was one distinguished member missing, since former skipper Robbie Keane bowed out of international football on Wednesday.
His presence will certainly be missed, but the manager hopes that the young players in his squad paid attention to the way the record goalscorer went about his business.
"I think that every one of them, the younger players in particular, should take bits of his game and his way of preparation for his matches and try and learn from it.
"And those players who aspire to scoring goals in our team should particularly take notice of that."
A question about the manager's unsigned contract got its obligatory airing at the pre-match press conference.
"I don't think there are any real particular issues, and it is just a matter of getting around to it."