Shay Given says it was his father who persuaded him to be a goalkeeper and eventually choose Celtic over Manchester United at the start of his career, while he remained firmly on the bench regarding the infamous Saipan incident.
Given, who retired from the international game after Euro 2016 having won 134 caps over the course of 20 years, is still playing club football with Stoke.
However, a career that has seen the 40-year-old represent Celtic, Blackburn, Swindon, Sunderland, Newcastle, Manchester City, Aston Villa and Middlesbrough, could have began at Manchester United but for his father's influence.
"My Da must have seen more skills in my goalkeeping than outfield. He influenced me a lot on that front"
The Donegal man told RTÉ Radio 1: "I went across the water to different clubs. Bradford City was the first, I went to Manchester United and obviously I ended up signing for Glasgow Celtic. So it was a big decision.
"I had the choice between Manchester United and Glasgow Celtic and my Da was a huge influence at that time and with Liam Brady being manager at the time, he felt that I had the better opportunity to play there so I packed the bags and off we went to Glasgow."
Given also revealed he also liked playing centre forward in his younger years, top-scoring for his school one year, but his father Séamus – a goalkeeper himself in the Ulster Senior League – persuaded him to remain between the sticks.
We need your consent to load this SoundCloud contentWe use SoundCloud to manage extra content that can set cookies on your device and collect data about your activity. Please review their details and accept them to load the content.Manage Preferences
He continued: "My Da must have seen more skills in my goalkeeping than outfield. He influenced me a lot on that front.
"He felt that goalkeeping was a specialised position and he felt that I was talented and if I had a chance of making it across the water that I needed to focus on my goalkeeping and that's what I did."
However, Given said that he never actually thought he would become a successful 'keeper when growing up.
"I live a mile outside Lifford in the countryside and played in the front garden with my brothers and played for Lifford Celtic and my school St Columbus College aswell.
"But as a dream you say 'what do you want to do when you get older' you say you want to play football, but in the back of your mind you felt there was probably very little chance of that happening."
"Someone's got to find you, and then you've got to be talented and good enough... Yeah so it was a dream, but I suppose everyone has dreams but they don't always come true."
Given's dreams were realised, and then some, with his career highlight coming when he represented Ireland at the 2002 World Cup.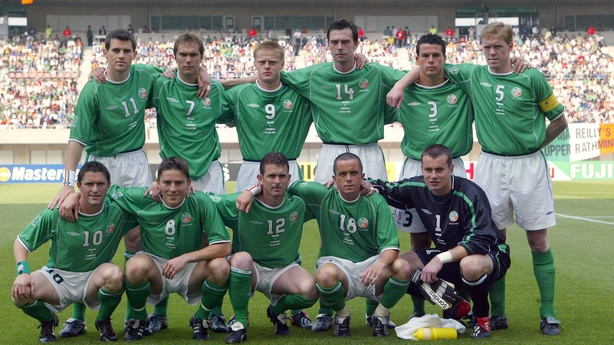 He continued: "The biggest high would have been the World Cup in Japan and Korea because it's the biggest and best tournament in football that you can play in so to be part of that was unbelievable."
Apart from being Given's first World Cup, the 2002 event is also well known among Irish fans for the infamous row between then captain Roy Keane and manager Mick McCarthy in Saipan.
The row, which saw Keane dismissed from the squad before the tournament began, split the nation and Given admitted that it was "a shame", while there were "no winners".
He said: "I don't think there were any winners at all. We all just wanted to get ready for a World Cup and Roy Keane was our captain, and we've lost our captain!
"But Mick McCarthy was our manager aswell... It's a hard one because I don't think anyone came out that well out of it.
"But as a team we had to forget what went on off the pitch and stick together and get on with the football and nothing was going to take away from me playing in the World Cup.
"I just wanted to get on the pitch and show the people around the world that this lad from Donegal could keep goals."
Given initially retired from international football in 2012, but returned in 2013, before finally hanging up his Ireland gloves for good in last month.
And it's a decision he found tough following such a lengthy involvement, but one he felt was correct, saying: "Twenty years was a long time to be involved with the whole set-up - I made my debut in 19. It was a big decision but I felt that the time was right."