FAI chief executive John Delaney has stressed once again that "everything is agreed" in relation to Martin O'Neill's contract extension as Republic of Ireland boss, and expects to meet the Derry man next week to finally wrap up the deal.
O'Neill revealed before the Euros that his contract extension had been agreed verbally, and insisted he was happy to wait until after the tournament before putting pen to paper. 
Delaney revealed on Wednesday that the pair are now extremely close to putting the issue to bed. 
"Everything is agreed," he said at the announcement of Sport Ireland's €2.7m investment in Irish soccer, €2.4m injection into the GAA and €2.36m boost to rugby.
"It's only a question of Martin and myself meeting up and actually signing the contract.
"I was speaking to Martin at the weekend. I'd expect we'll be able to meet next week."
"Everything is agreed." - John Delaney gives an update on Martin O'Neill's future as Rep of Ireland boss #RTEsoccerhttps://t.co/YnT8rp2oPU

— RTÉ Sport (@RTEsport) July 13, 2016
Delaney reflected on a positive campaign for the national side in France that ended with a 2-1 defeat in the last 16 to the host nation. 
O'Neill's men begin their quest for World Cup qualification away to Serbia in September as they look to make successive major tournaments for the just the second time.
"We're not in international football just to make up the numbers," said Delaney. "We're in international football to qualify for major tournaments.
"That's the objective for Martin and Roy and the players. It's a difficult group ... but if we can carry the momentum of the Euros, of course we've a great chance of qualifying for the World Cup.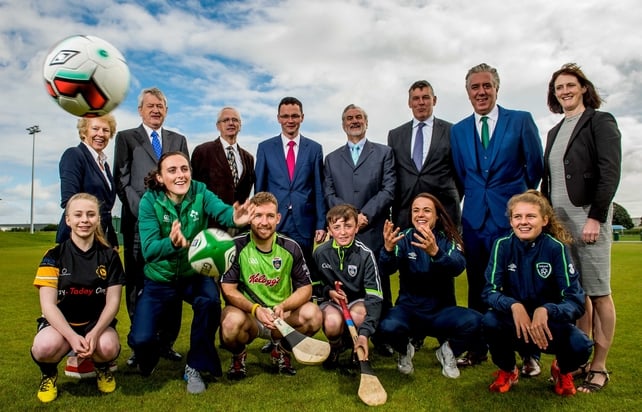 "From a football point of view it was a very good tournament. We left with great dignity. The great optimism I've seen is that the public have connected with this team. They've connected with the manager, with the assistant manager but also with the young players that are coming through.
"There are new heroes for Irish football and for the public. It was a great tournament but it's over now, it's in the past and it's all about playing Serbia in September and starting the path to hopefully the World Cup."
On Minister of State for Tourism and Sport Pat O'Donovan's announcement, Delaney added: "It's €2.7m annually for the FAI, direct funding from government.
"We put €3 to each €1 the government invests so that's overall about  €11m going back into grassroots football and it's going to the development of our game. 
"If you're building a house you build the foundations first. The chimney for us is international football but unless you've got a strong foundation, a strong grassroots game you can't have the international success we've seen over the last number of weeks.
"This funding is vital to allowing young kids all over this country to play sport irrespective of their ability. "