Zlatan Ibrahimovic remains Sweden's main threat ahead of the Ireland game, but the experienced centre forward's on-pitch relationships have given real hope to an improving side.
That's the opinion of Swedish journalist Michael Wagner, who believes that Sweden have a new star in the making in Emil Forsberg who has struck up a vital partnership with Ibrahimovic.
Left midfielder Forsberg plays his football with Red Bull Leipzig and while he has attracted a lot of interest elsewhere in Germany, Spain and England, the club's owner rates him too highly to sell on.
"His progress within the national team has been remarkable," said Wagner, who writes for Sweden's best selling daily newspaper, Aftonbladet. "He has developed some kind of chemistry playing alongside Ibrahimovic.
"He has the speed, he is technical, he is excellent in a one-on-one situation and he is also able to dribble past defenders."
Forsberg has become an integral part of this Sweden side, heading into Monday's Euro 2016 opener against Ireland at the Stade de France, especially going forward.
Forsberg's goal in the recent 3-0 victory against Wales showed the chemistry and understanding that now exists between the Leipzig midfielder and Sweden's top man, as well as exhibiting how Ibrahimovic can prove just as effective as a provider as a goalscorer.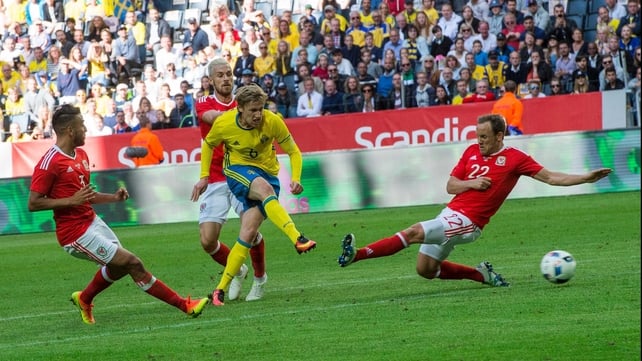 "He does not play a safe game, he likes to play on the edge, starting on the left but has free licence to move all over the place," explained Wagner, which is probably the reason that he has developed such a good relationship with Ibrahimovic.
Another player who has a long-standing relationship with Ibrahimovic and is vital for bringing the big striker into the game is the former Arsenal midfielder Kim Kallstrom, who now plies his trade at Grasshoppers in Switzerland.
"If there is something that I as a Swede should be afraid of is that Martin O'Neill has the skill and experience to bring a player up to the level of the game"
Wagner added: "He is a key player because of his experience but more importantly he has played his entire career alongside Ibrahimovic since they were 16 in the Under-17, Under-19 & Under-21 international sides.
"They are total opposites as people but also have big respect for each other.
"I don't know how many assists Kallstrom has played for Ibrahimovic with that left foot but the connection is so important.
"Kallstrom drops so deep to pick up the ball from the defence and his first thought is to look for Ibrahimovic.
"And now with Forsberg adding that chemistry, it will prove a vital triangle of the pitch, which is a typical way that this Sweden team will play."
Elsewhere, Sweden will pick a team that will work well against the Irish and are very concerned about Robbie Brady pushing on and attacking the left flank.
As a result, Erik Hamren is likely to play Mikael Lustig at right back with Seb Larsson in front of him on the right side of midfield.
"Even if he had a bad season at Sunderland, Larsson's way of playing is perfect against Ireland," said Wagner.
"He will run his heart out and can run for 95 minutes with no problems.
"Sweden need a good solid defence against Brady and the Ireland left flank and Larsson can help the right back Lustig out, as Lustig is attack-minded."
And while Ibrahimovic will attract a huge amount of attention from the Ireland defence, Sweden's striker Marcus Berg should pose a real threat in and around the penalty box.
"He is a typical penalty box goal-scorer; always in the right position to score," said Wagner.
"He's not that fast but excellent around the box and works hard putting pressure on the defence, as Zlatan will not do that work.
"Sweden need someone to do that and he doesn't complain. John Guidetti is an option but is a perfect choice for substitution as they are similar players."
One area that Wagner feels Ireland have a strong advantage is in the managerial department, as he believes that Martin O'Neill is better equipped to get the best out of his team, on the day, which is a vital attribute in tournament football.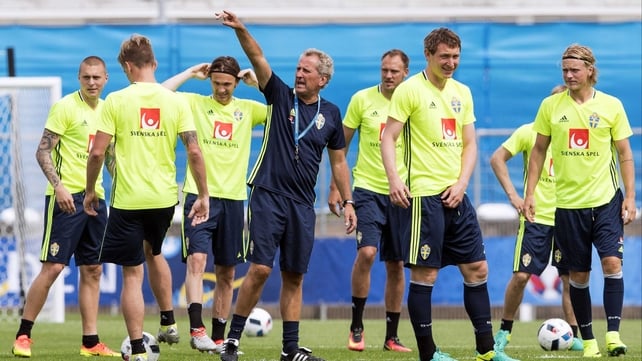 And Wagner admitted that the Sweden manager does not receive the full support of the nation.
"He had a lot of criticism. If you took a poll in Sweden, about 70 per cent are critical of him.
"He uses English words in his team talks by saying that he wants to see "shining" from his players.
"I wouldn't bet my house on it or my salary but I can see Sweden enjoying about 60 per cent possession, but it will be a really hard match"
"He wanted to play really attractive football when he took the job and was dreaming about winning tournaments with this style of football. But then they went to Amsterdam, playing attacking football, but it was a disaster, losing 4-0 against a strong side.
"And there was a total turnaround for the play-offs against Denmark with a defensive performance that would have made previous coach Lars Lagerback proud.
"After three or four years, people started to see through him. That this guy is not that professional or doesn't have that in-depth knowledge about tactics or about how to build a team around his strong players."
"In his defence, the public are mostly satisfied with how he has handled Ibrahimovic because during his time, the striker has grown, scoring those fantastic goals and is now the top scorer of all time for the Swedish national team.
"He made him team captain and made him blossom in a way that the previous manager could not do and he has prolonged Ibrahimovic's international career."
But Wagner admitted that the Ireland manager's qualities are something that Sweden should fear on Monday.
"If there is something that I as a Swede should be afraid of is that Martin O'Neill has the skill and experience to bring a player up to the level of the game, telling the player that now is the time for you to play your best.
"He is the manager who can bring forward all these things from the players
"And I don't think that Erik Hamren is that kind of manager.
"In this kind of game, the most important thing is that you are mentally right, you are able to perform at your top level on the day, so you need a coach who is stronger on motivation and the mental side of the game than tactics."
And while Wagner was reluctant to say who will win on Monday, he believes that both sides would rather sit back and hit the opposition on the counter-attack, but feels that it will be Sweden who will end up with more possession, allowing Ireland that luxury of hitting the opponents on the break.
"I wouldn't bet my house on it or my salary but I can see Sweden enjoying about 60 per cent possession, but it will be a really hard match.
"I think Sweden will play like they did away against Denmark. Solid in defence, excellent on the counter-attack and rely on set pieces.
"Sweden scored from two set-pieces against Denmark. I don't think that Sweden or Ireland want to attack as both play better counter-attacking.
"But if Ireland play compact and defensively and Sweden get their passing game right, then it will be Sweden enjoying possession against a solid Ireland looking to play on the counter-attack."
Michael Wagner is the senior football reporter for Aftonbladet, Sweden and Scandanavia's biggest selling newspaper.